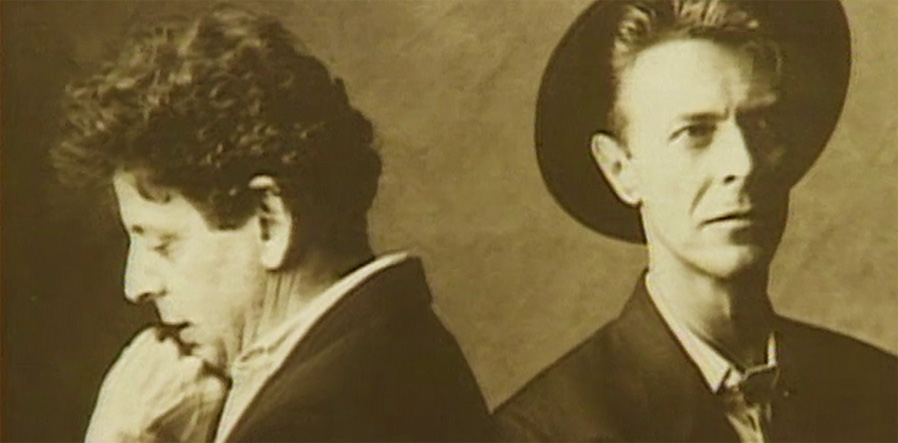 The groundbreaking work of David Bowie, who passed away earlier this week, left a profound mark on the world of rock music. But Bowie also influenced some of the twentieth century's most important minimalist and experimental composers, and in some cases he was influenced by their work.
In 1976, Bowie attended the European premiere of Steve Reich's monumental Music for 18 Musicians. You can hear the circular, pulsating, mallet-driven patterns and rhythmic groove of Music for 18 Musicians in Bowie's Weeping Wall, an instrumental track from his Low album, released in 1977. Both works seem to go in slightly different directions, while exploring sounds that were "in the air" at the time:
Later, Reich's early phase piece Clapping Music was combined with Bowie's Love is Lost in James Murphy's 2013 remix.
In 1992, Philip Glass paid homage to the work of David Bowie and Brian Eno with his "Low" Symphony No. 1, based on music from the Low album. Each of the Symphony's three movements (Subterraneans, Some Are, and Warszawa) uses music from the album as a jumping off point for something new. Bowie and Glass discuss their collaboration here. In his program notes for the piece, Glass discusses the Low album's influence:
 The record consisted of a number of songs and instrumentals and used techniques which were similar to procedures used by composers working in new and experimental music. As such, this record was widely appreciated by musicians working both in the field of "pop" music and in experimental music and was a landmark work of that period.
David Bowie's Heroes album, released in 1977, inspired Glass's Symphony No. 4 "Heroes," completed in 1996. Let's listen to V-2 Schneider, an instrumental track from the Heroes album. (There are highly distorted vocals, but here they function as yet another instrument). This is music which celebrates modern electronic sounds and elevates the mixing and processing of the recording studio to high art.
https://www.youtube.com/watch?v=dC20rI6mOiE
Now listen to Philip Glass' take on the same music. Glass' music is never more exhilarating (or dizzying) than when multiple conflicting rhythmic grooves pile on top of one another, often in three against two. We hear this about halfway through the excerpt. Also notice the rising and falling scales in the bass line. These delightfully irregular scales (never lining up on the "correct" note) resurface in the film score for Kundun, which Glass was writing around the same time.
[hr]
Peter and the Wolf
David Bowie's talents extended beyond music to include painting and acting. Here is his legendary 1978 narration of Prokofiev's Peter and the Wolf with Eugene Ormandy and the Philadelphia Orchestra. The recording, released on the RCA Red Seal label, reached number 136 on the US Pop Albums chart.
https://www.youtube.com/watch?v=kpoizq-jjxs&list=PL5A4871BCD99ABE5F
[unordered_list style="tick"]
[/unordered_list]