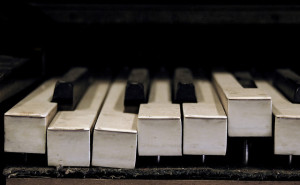 The element of surprise is an important ingredient in every great melody. Each note of a melody sets up expectations which are either fulfilled or delightfully challenged. Often subconsciously, we enjoy the unexpected "wrong" notes that take a melody in a bold new direction. We listen closely to hear how the disruption will work itself out.
For an example, listen to the jarring appoggiaturas in the second movement of Mozart's otherwise serene Piano Concerto No. 21, K. 467. Or listen to the Richard Rodgers song, In My Own Little Corner from the 1957 television musical, Cinderella. On the words, "own little chair" Rodgers veers unexpectedly to the "wrong" note and then quickly corrects it with the note we expected. The bridge section of the song moves even further afield before quickly and skillfully sliding back into the chorus. "Oh yes, that's where we're supposed to be." The familiar chorus suddenly feels fresh and new because of where we've been in the bridge.
The examples above are relatively subtle. But once in a while the "wrong" notes begin to really step out of line and take over the piece. Here are eight pieces where "wrong" notes move beyond subtle into the realm of shocking:
Haydn: The Creation
Franz Joseph Haydn's oratorio The Creation, completed in 1798, is based on the Book of Genesis and John Milton's Paradise Lost. The opening Overture is a musical depiction of chaos. It's filled with harsh dissonances and cadences which avoid a clear resolution, elements which audiences at the time would have found particularly shocking. There's a hint of the revolutionary fire of Beethoven, who was about to begin his first string quartets in 1797 as Haydn began working on The Creation. At moments the music is so chromatic that it feels as if we've stepped into some unwritten Wagner prelude:
[unordered_list style="tick"]
[/unordered_list]
Mozart's "Dissonance" Quartet
Listen to the opening of Mozart's String Quartet No. 19 in C major and you'll understand why it earned the nickname "Dissonance." Completed in 1785, the work was dedicated to Haydn.
[unordered_list style="tick"]
[/unordered_list]
Chopin's "Wrong Note" Etude
Frederic Chopin's Etude No. 25, No. 5 in E minor is known as the "Wrong Note" Etude because of its dissonant minor seconds.
[unordered_list style="tick"]
[/unordered_list]
Prokofiev: Cinderella
The music of Sergei Prokofiev is full of quirky "wrong" notes. This excerpt from the ballet score, Cinderella is one example:
[unordered_list style="tick"]
[/unordered_list]
Ives: Symphony No. 2
The final movement of Charles Ives' Symphony No. 2 is an exuberant collage of American folk songs, hymns, and Civil War military songs. You might also hear hints of Dvorak's "New World" Symphony. The end of the movement is like the grand finale of a brilliant fireworks display. Listen carefully. Something surprising happens on the final chord…
[unordered_list style="tick"]
[/unordered_list]
Shostakovich: Polka from "The Golden Age"
Dmitri Shostakovich's 1930 ballet The Golden Age offered a satirical look at cultural and political currents in 1920s Europe. The Polka lands somewhere between humor and sarcasm:
https://www.youtube.com/watch?v=0z4MfzSdNkI
[unordered_list style="tick"]
[/unordered_list]
Schnittke: Stille Nacht
Russian composer Alfred Schnittke (1934-1998) wrote this haunting version of Silent Night as a musical Christmas Card for violinist Gidon Kremer in 1978. Schnittke spent much of his life trapped behind the Soviet Iron Curtain. His music often evokes an atmosphere of gloom as well as biting protest. Pastiche and historical references frequently make up the ironic fabric of Schnittke's music.
[unordered_list style="tick"]
[/unordered_list]
Wrong Note Rag
We'll finish with music which perfectly sums up the joy of "wrong" notes. Here is an excerpt from the original Broadway cast recording of Leonard Bernstein's 1953 musical Wonderful Town. The lyrics were written by Betty Comden and Adolph Green:
[unordered_list style="tick"]
[/unordered_list]
Share your own favorite "wrong note" pieces in the thread below.