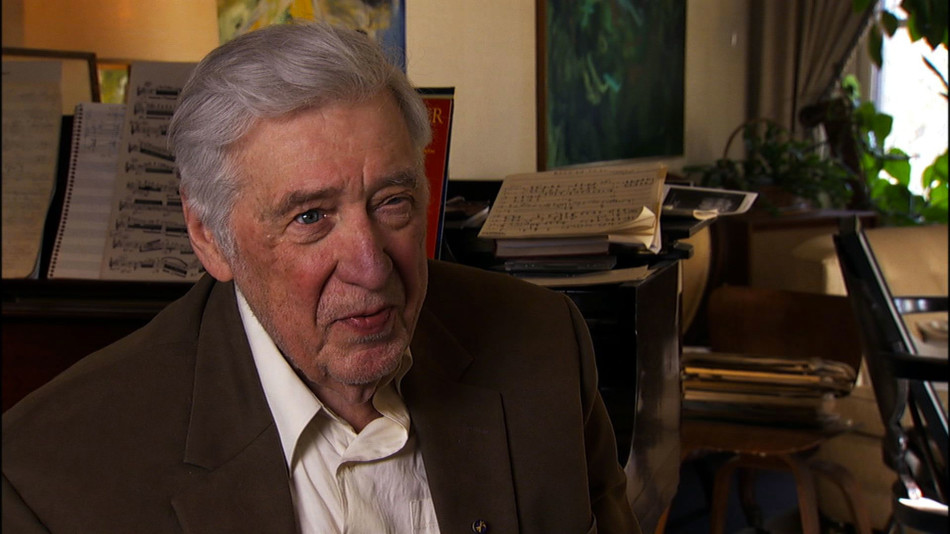 American composer, conductor, horn player, writer, educator, and jazz musician Gunther Schuller passed away yesterday at the age of 89. Schuller's compositions fused elements of jazz and classical music into a style he called "Third Stream." His remarkably diverse career included principal horn positions with the Cincinnati Symphony and Metropolitan Opera orchestras in the 1940s and 50s, as well as collaborations with Miles Davis, Dizzy Gillespie and others. In the 1960s and 70s, he was president of New England Conservatory of Music. He served as director of new musical activities at the Tanglewood Music Center, summer home of the Boston Symphony. More recently, he served as artistic director of the Northwest Bach Festival in Spokane, Washington.
Gunther Schuller talks about his musical development and the influence of orchestra playing, Scriabin, Ravel, and Duke Ellington in this 1999 conversation with David Starobin.
Selected Recordings:
Where the Word Ends was written in 2007 for James Levine and the Boston Symphony. In the opening of the piece, ghostly voices emerge out of silence, suddenly thrusting us into a dark world of apprehension. As the piece progresses, we hear faint echoes of the music of Anton Bruckner (9:48), Mahler, Bartok, and Stravinsky. At 21:27, a lonely, jazzy solo horn line briefly emerges. Where the Word Ends is a haunting dreamscape of color and sound.
In this live BBC Proms performance, Semyon Bychkov leads the WDR Symphony Orchestra of Cologne:
https://youtu.be/A2DChjP8g6c?t=3m50s
The Chamber Music Society Of Lincoln Center's recording of Octet, written in 1979, first movement:
The bluesy second movement, Passacaglia, from Concertino for Jazz Quartet and Orchestra (1959):
Leonard Bernstein's March 11, 1964 New York Philharmonic "Young People's Concert," Jazz in the Concert Hall featured Gunther Schuller conducting his educational narrative, Journey into Jazz:
https://www.youtube.com/watch?v=aOLejUiiVUg
[unordered_list style="tick"]
[/unordered_list]