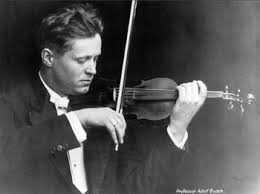 Tully Potter's collection of books and CD's, Adolf Busch- The Life of an Honest Musician, published in 2010, tells the remarkable story of one of the twentieth century's greatest violinists. In the years leading up to the Second World War, Adolf Busch toured Europe as an exponent of the classic German style of violin playing, which had been associated with Joseph Joachim. The leader of the Busch Quartet, as well as a chamber orchestra, Busch's approach to violin playing favored musicianship over dazzling displays of virtuosity.
The rise of Hitler in the late 1920s tested the eternally political and backbiting classical music profession. Musicians such as Wilhelm Furtwängler and Richard Strauss reportedly didn't approve of the Third Reich (neither joined the Nazi Party), but both tolerated Hitler, motivated by career preservation. As Potter's book recounts, the Busch Quartet arrived in Berlin on April 1, 1933, the day the Nazis began a targeted assault on Jewish businesses. Following the evening's concert, Busch, who was not Jewish, cancelled his entire German tour. He settled in Switzerland and watched as fascism spread throughout Europe. Hitler's efforts to lure back "the world's greatest German violinist" fell on deaf ears. 
Eventually, Busch emigrated to the United States. He never regained the reputation he had enjoyed in Europe. American audiences were enthralled with younger, flashier artists such as Jascha Heifetz and Busch's style of playing may have seemed out of date. Listening now, it's easier to recognize Busch's artistry. The recording below showcases a deep and mature musicianship, a straightforward and honest sense of timing and a beautifully pure sound.
Yehudi Menuhin hinted at similar attributes as he remembered lessons with Adolf Busch:
Busch's teaching was…musical rather than violinistic. If he didn't have Enesco's flair or glamour, as a musician he was extremely serious and deep, a passionate fundamentalist who ate, breathed, and slept Bach and Beethoven. He played the violin cleanly and beautifully, if with no Russian or Gypsy touch.*
Here is a 1930s recording of Busch and pianist Rudolf Serkin playing Brahms' Violin Sonata No. 2 in A major, Op. 100. The duo founded the Marlboro Music School and Festival in 1951.
Here are the second and third movements. Also listen to the Busch Quartet's dramatic and fiery reading of Schubert's "Death and the Maiden" String Quartet. 
Adolf Busch was also active as a composer. Listen to his Violin Concerto here. Read this review and watch this video to learn more.
*Great Masters of the Violin, Boris Schwarz (pg. 327)