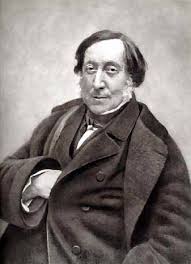 "Fun" may be the best way to describe a Rossini opera overture. Gioachino Rossini (1792-1868) was a master of long, expectation-building crescendos, sparkling, virtuosic woodwind solos and musical jokes, which included sudden, loud, out of place chords. These operas would have been considered popular entertainment-drama mixed with sports, in the form of the vocal acrobatics of the singers.
Recently, I ran across this exciting 1990 Metropolitan Opera performance of Rossini's Semiramide Overture. As you listen, pay attention to the great sense of style in the playing and consider what elements make this music so much fun. Can you hear musical conversations taking place? Do the melodies and the sounds of the instruments suggest characters, distinct personas or dramatic situations?
Read the history and synopsis of the two act opera, based on a Voltaire tragedy, here.
https://www.youtube.com/watch?v=bxoHzI0VtCM