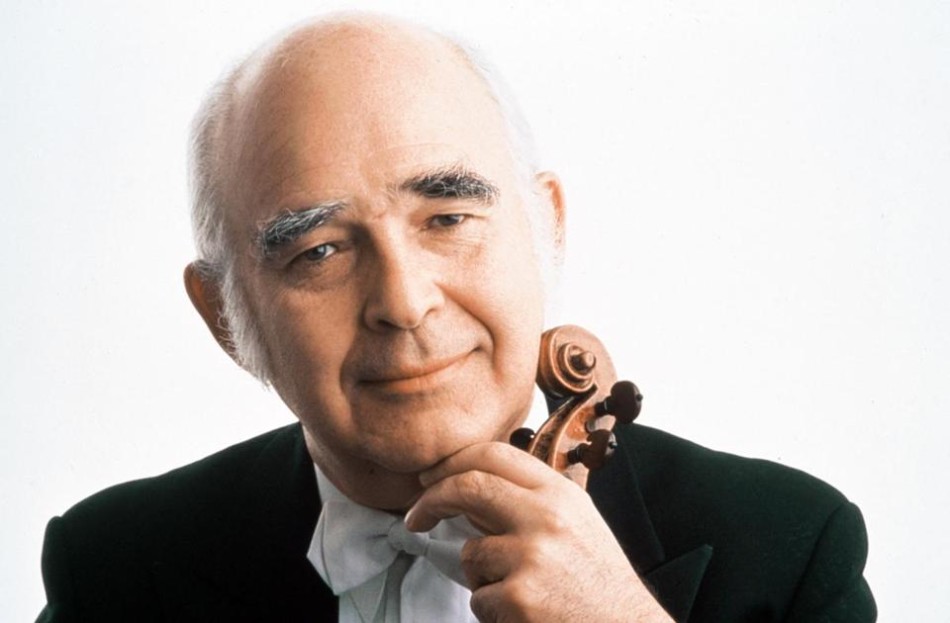 Legendary violinist, conductor, and teacher Joseph Silverstein passed away yesterday in Boston. He was 83.
Born in Detroit, the son of a public school music educator, Silverstein studied with Efrem Zimbalist, William Primrose, Josef Gingold, and Mischa Mischakoff. He served as concertmaster of the Boston Symphony for 22 years, beginning in 1962. In 1971 he was appointed assistant conductor of the BSO. He was music director of the Utah Symphony between 1983 and 1998. Silverstein was on the faculty of New England Conservatory and the Curtis Institute. He was also a member of the Suzuki Association of the Americas Honorary Board.
In this informal interview from last December, Joseph Silverstein shares thoughts on violin playing, the role of the concertmaster, auditions, stage fright, and much more. He remembers performing concertos with Eugene Ormandy and the Philadelphia Orchestra and accompanying Jascha Heifetz with the Boston Symphony. He recommends that students aspire to "a life in music," celebrating all aspects of playing (solo, chamber music, orchestral), as well as teaching. The interview provides a hint of Silverstein's famously gruff and uncompromising teaching style, which underlies intense conviction. Silverstein demonstrated a great love for the violin. When the student interviewers asked why he continued to practice rigorously (including scales) at his stature, he answered "I want to get better."
In his 1983 book, Great Masters of the Violin, Boris Schwarz wrote,
Whenever I hear Joseph Silverstein, I am convinced that there is no more fastidious violinist around. His playing is so finely chiseled, his tone so warm, his interpretation in such good taste, that he has few rivals.
Early on, Silverstein played a 1773 J.B. Guadagnini which had been owned by Arthur Grumiaux. For most of his career he played the 1742 "ex-Camilla Urso" Guarnerius del Gesù.
Here is a sampling of Joseph Silverstein's numerous recordings:
Concertmaster Solo from Swan Lake
Here is solo from the Danse russe from the third act of Tchaikovsky's Swan Lake ballet score. It was recorded with Seiji Ozawa and the Boston Symphony in 1978:
Barber Violin Concerto
Here is the first movement of the Samuel Barber Violin Concerto, recorded in 1985 with the Utah Symphony:
Stravinsky Violin Concerto
Silverstein's recording with Erich Leinsdorf and the Boston Symphony, released in 1965:
J.S. Bach Partita No. 3
Here is the Gavotte en Rondeau from Bach's Partita No. 3 for solo violin:
Debussy Sonata
Claude Debussy's Sonata for Violin and Piano, recorded in 1975. Michael Tilson Thomas is playing the piano.
https://www.youtube.com/watch?v=wz2N7rdHhjs
[unordered_list style="tick"]
[/unordered_list]