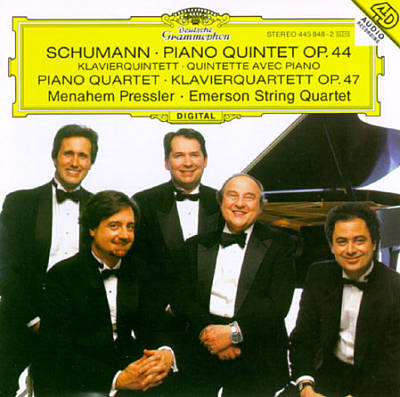 The year was 1842 and Robert Schumann was on a roll. In just over nine months the composer, who up until that point had written mostly piano music and songs, completed the three Op. 41 string quartets, a piano quintet (Op. 44), a piano quartet (Op. 47), and the Fantasiestücke piano trio (Op. 88). It's no wonder that musicologists refer to 1842 as Schumann's "chamber music year."
The monumental Piano Quintet in E-flat major, Op. 44 brought together a new cast of characters. Schumann paired piano and string quartet, practically inventing a virtuosic new genre.  Prior to this, the piano quintet had typically used double bass rather than cello, as in Franz Schubert's "Trout" Quintet. Schumann's quintet greatly influenced Johannes Brahms' Piano Quintet in F minor, written twenty-two years later.
The first movement opens with a noble, collective statement…a joyful celebration of this powerful, new combination of voices. But quickly a musical conversation begins. Listen to the way each voice contributes to the conversation. The participants in this passionate musical conversation agree, argue, occasionally finish one another's sentences, and frequently pick up on an idea, taking it in a sudden, new direction. The movement's coda ends with a playful cadential nod to Felix Mendelssohn (8:33), capped off with an exuberant exclamation point in contrary motion (8:41).
In the second movement we enter a solemn funeral march in C minor. But, as in the first movement, we find ourselves in sudden, unexpected places. Listen for rhapsodic changes from darkness to light. For me, one of the second movement's most incredible moments comes around the 16:03 mark when the cello joins the violin in a passionate statement of lament. A few moments later, the gloomy funeral march is interrupted by a cry of terror (17:22), which leads to the movement's sudden conclusion.
Schumann wrote the Op. 44 Piano Quintet for his wife Clara Wieck, one of the most distinguished pianists of her day and a composer in her own right. The Scherzo's first trio section (19:06) features a descending four note motive that originated in Schumann's 10 Impromptus on a Theme of Clara Wieck, Op. 5. The same motive pops up in the base line at this moment in the introduction of the first movement of the "Spring" Symphony No. 1.  
Near the end of the final movement, we get a hint of the first movement's opening theme (27:51). Then, at 28:15 the movement's momentum comes to a crashing halt and the first movement's opening theme reappears triumphantly, boldly stated in a single piano line, as if to say, "I'm still here!" This theme and the final movement's main theme are blended into a double fugue and the Op. 44 Piano Quintet finds a heroic conclusion.
Here is a great performance by the Emerson String Quartet and pianist Menahem Pressler:
[ordered_list style="decimal"]
Allegro Brillante 0:00
In modo d'una marcia. Un poco largamente 8:56
Scherzo. Molto vivace 17:51
Allegro ma non troppo 22:40
[/ordered_list]
[unordered_list style="tick"]
[/unordered_list]