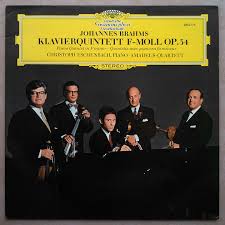 A ferocious, restless energy characterizes Brahms' Piano Quintet in F Minor, Op. 34. It's music which is constantly developing and evolving from the smallest motivic seed.
At first Brahms wrestled to find the right instrumentation. The music started out as a string quartet, developed into a sonata for two pianos and then, on the recommendation of Clara Schumann, found its true form as a marriage of piano and strings. This evolution is similar to the compositional process of the First Piano Concerto, which was originally intended to be a symphony. It's almost as if the piece was telling Brahms what it wanted to be as he composed.
Brahms completed the Piano Quintet in 1864, when he was in his early 30s. Listen for complex rhythmic shifts-moments where you might lose track of the downbeat. Also, listen for the reference to Beethoven's Late String Quartets in the opening of the last movement.
Here is a classic 1968 recording with pianist Christoph Eschenbach and the Amadeus Quartet:
Allegro non troppo 00:00
Andante, un poco Adagio 14:44
Scherzo. Allegro – Trio 23:37
Finale. Poco sostenuto – Allegro non troppo 31:51