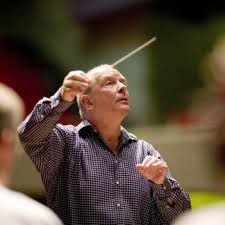 Conductor, harpsichordist, and early music scholar Christopher Hogwood passed away last week at the age of 73. He was an influential advocate of authentic performance practice and the use of period instruments. He helped pioneer a movement which attempted to recreate the original sound and style of baroque and classical music. In 1973 he founded the Cambridge, England-based Academy of Ancient Music. You can explore a collection of his lectures here and view a catalogue of his extensive writing and recordings here. His approach to music, which emphasized musicology, is summed up in the follow quote:
Every piece of music should be looked at as a painting that dissolved off the wall when you closed the gallery door. If all the colors dripped down into a huge pot and you took this pot, along with a recipe of how to reassemble the colors back into Van Gogh's 'Sunflowers,' you would be very careful to get all the reds and the yellows in the right places, and not to paint it bigger or smaller than it was. I think music carries with it this responsibility.
A comparison of Hogwood's period performance of Beethoven's Fifth Symphony with the Romantic 1954 interpretation of Wilhelm Furtwängler demonstrates how different the same music can sound, depending on the philosophy of the performer. 
Youthful Beethoven
Let's listen to Christopher Hogwood's sparkling and stylish recording of Beethoven's Symphony No. 2 in D major, Op. 36 with the Academy of Ancient Music. The performance features harpsichord and period instruments tuned to a slightly lower "A" than we're used to.
Beethoven's first two symphonies are his most youthful and classical, but listen carefully and you'll hear hints of explosive, revolutionary sounds to come. The music was shocking enough to elicit the following description from a Viennese critic following the premiere:
"a hideously writhing, wounded dragon that refuses to die, but writhing in its last agonies and, in the fourth movement, bleeding to death.
You may also notice the kind of humor we rarely associate with Beethoven. While the symphonies of Franz Joseph Haydn commonly featured stately minuets for the third movement, Beethoven began writing scherzos. The word "scherzo" literally translates as "joke." Notice the musical cat and mouse games and sudden interruptions which occur between instruments in the Scherzo of the Second Symphony.
The comically boisterous opening of the final movement is like a loud guest who attracts attention at a party for all the wrong reasons. It's an outburst which opens the door to a spirited and simultaneously ferocious romp. As the motives are tossed around and developed, notice the way they become increasingly compressed between 29:11 and 29:25. Strangely, this movement contains subtle premonitions of the Finale of the Ninth Symphony (31:55). Then there's the eerie intensity of that moment in the coda where everything drops out except for the string tremolo. What  follows may be the biggest joke of all.
[ordered_list style="decimal"]
Adagio molto-Allegro con brio (0:00)
Larghetto (12:50)
Scherzo: Allegro (22:45)
Allegro molto (27:10)
[/ordered_list]
[unordered_list style="tick"]
[/unordered_list]
Haydn's Final Symphony
Franz Joseph Haydn was employed in London during the final years of his life. Symphony No. 104 in D major is the last of twelve "London Symphonies". Here is a live performance with Christopher Hogwood:
[ordered_list style="decimal"]
Adagio — Allegro (0:00)
Andante (8:56:
Menuetto and Trio: Allegro (17:10)
Finale: Spiritoso (21:33)
[/ordered_list]
https://www.youtube.com/watch?v=y0wsvgZxvUE
[unordered_list style="tick"]
[/unordered_list]