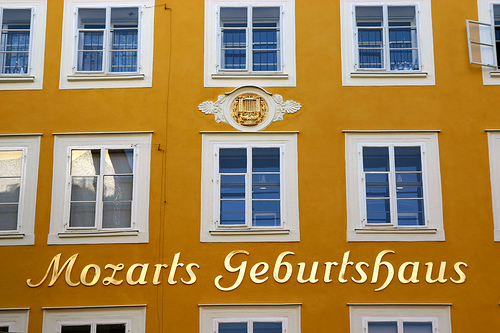 Tomorrow marks the 259th anniversary of Mozart's birth. If you're looking for an exciting way to celebrate, consider picking up a copy of Rachel Barton Pine's newly-released Mozart recording. The CD features all five Mozart Violin Concertos and the Sinfonia Concertante. Barton Pine is accompanied by Sir Neville Marriner and the Academy of St. Martin in the Fields. Her infectious enthusiasm for the music is apparent in this informational clip.
Born in Chicago in 1974, Rachel Barton Pine is known for her adventurous and eclectic approach to the violin, which includes a passion for Heavy Metal and her own variations on Happy Birthday. In Mozart's time, performers were expected to play their own cadenzas, adding freedom and spontaneity to concerto performances. Rachel Barton Pine continues this tradition on this recording.
She plays the 1742 "ex-Soldat" Guarneri del Gesu, a violin named after nineteenth century violinist Marie Soldat-Roeger, a close friend of Brahms.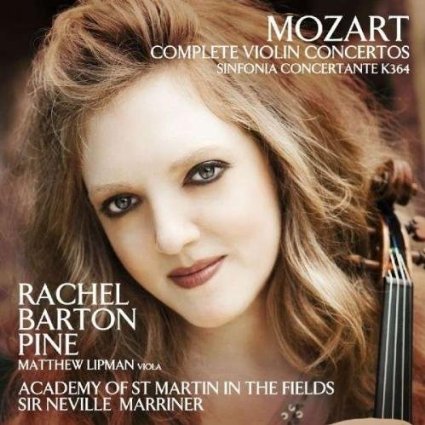 Mozart's Piano Concerto No. 23
As Rachel Barton Pine mentions in her program notes, Leopold Mozart published an influential treatise on violin playing in 1756, the year his son Wolfgang was born. Mozart's youthful violin concertos, all written during his teenage years, reflect a joyful, fun-loving attitude towards the instrument. Leopold lamented to the young Mozart,
You have no idea how well you play the violin. If only you would do yourself justice and play with boldness, spirit and fire, as if you were the greatest violinist in Europe!
Mozart's twenty seven piano concertos are more mature. Concerto No. 23 in A major was finished on March 2, 1786, around the time The Marriage of Figaro premiered. This work contains a universe of expression. From the opening of the introduction, a musical conversation unfolds, first between the strings and woodwinds and then including the sparkling voice of the piano. The final movement is a spirited romp. Listen for the exuberant bassoon, string, and clarinet lines beginning around 19:18. The second movement takes us to a completely different world. The piano emerges as a solitary, mournful voice. In the middle of the movement (13:52), we hear music which would later turn up in Act II of Don Giovanni in the trio, "Ah taci, ingiusto core" ("Ah, be quiet unjust heart").
Here is Vladimir Ashkenazy's 1980 recording with the Philharmonia Orchestra:
[ordered_list style="decimal"]
Allegro 0:00
Adagio 11:20
Allegro assai 18:51
[/ordered_list]
https://www.youtube.com/watch?v=gjvpeJhA7tE
[unordered_list style="tick"]
[/unordered_list]