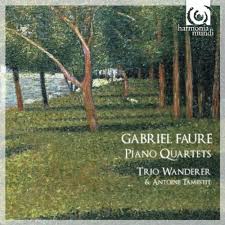 Recently, I've been listening to Trio Wanderer's exceptional 2010 recording of Gabriel Fauré's Piano Quartets. The members of the all-French trio (violinist Jean-Marc Phillips-Varjabédian, cellist Raphaël Pidoux and pianist Vincent Coq) first performed together as students at the Conservatoire de Paris in the early 1990s. Their background includes studies with the Amadeus Quartet and with Menahem Pressler of the Beaux Arts Trio. Here, they're joined by violist Antoine Tamestit. The buoyant, suave sense of French style, a wide array of rich tonal colors, and remarkable clarity and balance make this recording stand out.
The soul of the music also comes to life on this disk. Trio Wanderer's performance captures the sparkling, mercurial spirit of Fauré's Piano Quartet No. 1 in C minor, Op. 15 (below). This music has the same unexpected harmonic twists and turns we hear in Fauré's famous Sicilienne et Berceuse. It floats along, evolving and changing shape, like wispy clouds against an otherwise clear blue sky. It's filled with musical conversations (listen around 0:36 and 1:22). Glistening splashes of color emerge from the piano's arpeggios and running passages. From the opening bars, there's an unrelenting sense of forward motion. But listen carefully and you'll catch rare and fleeting moments of simplicity and repose (for example, at 3:44 and at the end of the first movement at 8:57).
Notice the subtle change in color and atmosphere in the middle of the Scherzo (12:06). Here, we seem to enter a darker, veiled, nocturnal world. Then, there's the haunting moment at the end of the Adagio when, just as the movement seems to be winding down, we discover that it has more to say (20:43). A final statement of lament follows.
Throughout the final movement, notice the way the forward motion is interrupted occasionally by a harmonic "brick wall" (22:34, 26:22). Each time, we bounce back quickly. But listen for the moment at the end of the movement where the motion completely stops…
[ordered_list style="decimal"]
Allegro molto moderato (0:00)
Scherzo. Allegro vivo (9:25)
Adagio (14:52)
Finale. Allegro molto (22:06)
[/ordered_list]
https://www.youtube.com/watch?v=dFkBk7hEPhQ
[unordered_list style="tick"]
[/unordered_list]