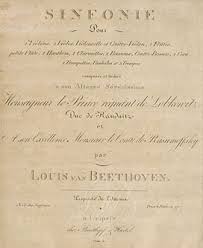 Can you imagine how shocking the opening of Beethoven's Symphony No. 5 in C minor, Op.67 must have been for audiences at the first performance in 1808? While the classical style of Mozart and Haydn was rooted in elegance and balance, Beethoven made the orchestra growl. There's a sense of struggle, as if he's impatiently pushing the classical orchestra to its limits.
The entire symphony springs from the first ferocious four notes. It's a study in concentrated energy and relentless forward motion. While the four note motive develops on the smallest level, the piece is also developing on a large level. It's an unfolding process in which turbulent C minor is transformed into heroic C major.
Here is a performance by Paavo Jarvi and the Deutsche Kammerphilharmonie Bremen:
[ordered_list style="decimal"]
[/ordered_list]
[button link="https://itunes.apple.com/us/album/beethoven-symphonies-nos./id74441316″]Find on iTunes[/button] [button link="http://www.amazon.com/Beethoven-Symphonies-Nos-5-7/dp/B000001GPX"]Find on Amazon[/button]
Did you notice how the opening motive runs through the entire piece like musical DNA? In the first movement, as we move into the second theme, it's still there in the basses (0:55). In the second movement we get the same "short, short, short long" (7:55, 8:14 and 12:11). We hear it in the third movement (16:19) and fourth movement (25:06, 25:25). As you listen, you'll hear many more examples.
Beethoven's ability to unify the symphony with a common motivic thread was revolutionary in 1808. The end of the third movement would have been equally shocking. Listen to the passage starting around 19:16 one more time. The music gets softer and softer, hinting that something significant is about to happen. Then, as the movement should be ending (20:03), Beethoven creates a musical bridge linking the third and forth movements. He later briefly returns to the third movement's theme before the recapitulation of the final movement (26:09).
The climax of the symphony (and the goal of the first three movements) comes with the heroic proclamation at the opening of the final movement. Beethoven reserves the special color of the trombones for this moment. While trombones had long been used to double the voices in church music, this was one of the first times they were incorporated into the orchestra. Notice the way the trombone color, with its heroic and supernatural connotations, transforms the sound. Beethoven expands the orchestra further with the piccolo and the contrabassoon. 
[typography font="Cantarell" size="28″ size_format="px"]George Szell's Rehearsal[/typography]
Here is a rare clip of legendary conductor George Szell rehearsing the first movement of Beethoven's Fifth Symphony with the Cleveland Orchestra: