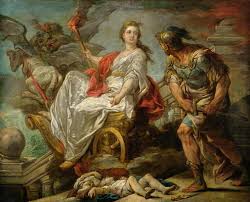 Sometimes it's hard to tell the difference between Greek mythology and a modern-day soap opera plot. A perfect example is the story of Medea and Jason, recounted in a play by Euripides from 431 BC. Jason marries Media, but leaves her for Glauce, daughter of Creon, the King of Corinth. Medea gruesomely avenges Jason's betrayal by killing their children.
This story was the subject of American composer Samuel Barber's 1946 ballet score for Martha Graham. Graham's company had premiered Aaron Copland's Appalachian Spring two years earlier. Listen to Barber's complete score here.
Barber explains that the ballet went beyond the story to reflect the underlying timeless emotions:
[quote]Neither Miss Graham nor the composer wished to use the Medea-Jason legend literally in the ballet. These mythical figures served rather to project psychological states of jealousy and vengeance which are timeless. The choreography and music were conceived, as it were, on two time levels, the ancient mythical and the contemporary…As the tension and conflict between them increases, they step out of their legendary roles from time to time and become the modern man and woman, caught in the nets of jealousy and destructive love.[/quote]
Later, Barber adapted music from the ballet for Medea's Dance of Vengeance, Op.23a. He wrote a short introduction in the score:
[quote] The present version, rescored for large orchestra in 1955, is in one continuous movement and is based on material from the ballet which is directly related to the central character, Medea. Tracing her emotions from her tender feelings towards her children, through her mounting suspicions and anguish at her husband's betrayal and her decision to avenge herself, the piece increases in intensity to close in the frenzied Dance of Vengeance of Medea, the Sorceress descended from the Sun God. [/quote]
Let's listen to a recording by Marin Alsop and the Royal Scottish National Orchestra:
https://www.youtube.com/watch?v=1woj_bp-LEs
[button link="https://itunes.apple.com/us/album/barber-3-essays-for-orchestra/id265330857″]Find on iTunes[/button] [button link="http://www.amazon.com/Medeas-Meditation-Dance-Vengeance-Op/dp/B000S560A6″]Find on Amazon[/button]
There's something almost cinematic about the opening of this piece. It immediately establishes a distinct mood in the way a film score would underscore an opening scene. Beginning at 0:59, consider each solo voice's unique persona, from the flute, clarinet and oboe to the string interjections. Can you hear a sense of anxiety slowly creeping into this virtual movie soundtrack? Does the music conjure up specific images or just feelings?
At 8:20, listen to the obsessive furry of the repeated piano line. Notice how this deranged line falls in on itself rhythmically at 9:40. The piece ends in a frenzy of madness. At what point do passion and love cross the line to insanity?
[quote]Medea: "Look, my soft eyes have suddenly filled with tears:
O children, how ready to cry I am, how full of foreboding!
Jason wrongs me, though I have never injured him.
He has taken a wife to his house, supplanting me…
Now I am in the full force of the storm of hate.
I will make dead bodies of three of my enemies–
father, the girl and my husband!
Come, Medea, whose father was noble,
Whose grandfather God of the sun,
Go forward to the dreadful act."[/quote]
-Euripides