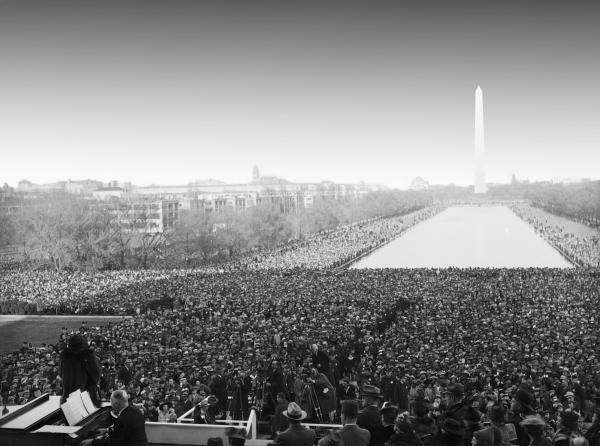 On Easter Sunday, 1939, African-American contralto Marian Anderson gave a concert on the steps of the Lincoln Memorial. It is remembered as a significant event which provided a glimpse of the powerful American civil rights movement to come. Twenty four years later, in 1963, Martin Luther King Jr. would stand on the same steps to deliver his iconic "I have a dream" address. As Marian Anderson performed for a multiracial crowd of over 75,000 and millions of radio listeners across the country, the foundation of a long-established segregated society was beginning to crumble.
Marian Anderson's legendary outdoor concert was born out of adversity. Although she would come to be regarded as one of the twentieth century's greatest singers, segregation barred her from many venues throughout the United States. When she attempted to schedule a concert in Washington, D.C, the Daughters of the American Revolution refused to allow her to perform at Constitution Hall. A firestorm of controversy ensued and thousands of DAR members resigned in protest, including First Lady Eleanor Roosevelt who wrote,
I am in complete disagreement with the attitude taken in refusing Constitution Hall to a great artist … You had an opportunity to lead in an enlightened way and it seems to me that your organization has failed.
The District of Columbia Board of Education would not allow the concert to be moved to the auditorium of an all white high school. It was Eleanor Roosevelt, with the help of Secretary of the Interior Harold Ickes, who organized the now legendary outdoor concert.
In honor of Martin Luther King Jr. Day, here is Marian Anderson's 1939 performance of "My Country, 'Tis of Thee at the Lincoln Memorial:
Watch this documentary to learn more about Marian Anderson's extraordinary life and groundbreaking career.
Five Great Recordings
[unordered_list style="tick"]
[/unordered_list]