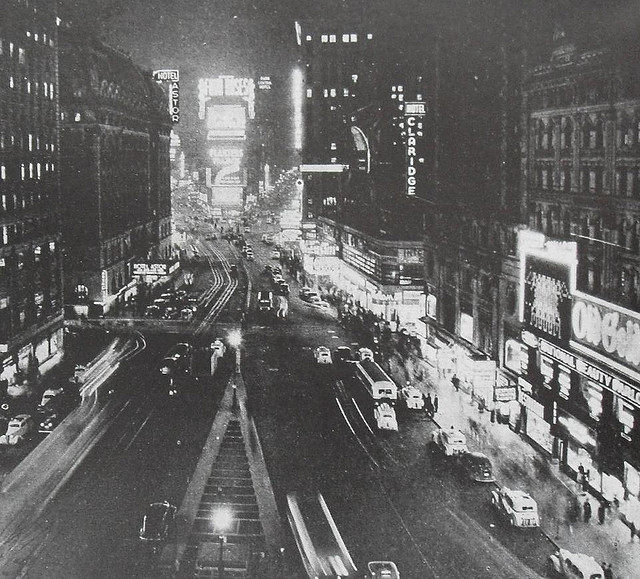 Here's an interesting historical coincidence from the golden age of American musical theater: At one fleeting moment in the late 1940s, there were three shows running on (or near) Broadway containing songs with strikingly similar titles. The shows had little in common in terms of style or substance. But the three songs, Lonely Room, Lonely Town, and Lonely House share an obvious, if superficial bond.
Lonely Room
Lonely Room is a dark soliloquy, occurring near the end of the first act of Rodgers and Hammerstein's Oklahoma!, the transformative, plot-driven musical which opened on Broadway in 1943 and ran for a record-breaking 2,212 performances. The song offers a brief glimpse into the troubled, isolated world of Jud Fry. Fry, who lives in a smokehouse, is the show's main villain and outcast. He is an anti-hero, the polar opposite of cowboy Curly McLain. Curly and Jud are embroiled in a romantic rivalry for the affections of Laurey Williams, a farm girl.
Lonely Room gives us empathy for Jud as a character, even though we don't want to see him triumph over Curly. We are forced to enter the painful desolation of his inner turmoil and to acknowledge his humanity. He becomes a developed character rather than a stick figure "villain." Our encounter is simultaneously disturbing and life-affirming.
Lonely Room opens with a grating dissonance. Its melody steps up chromatically, mirroring the rising heat of Jud's emotions. It veers unpredictably into major before being pulled back into a stormy minor. Lonely Room unfolds as a stream of consciousness with its own dramatic arc. In The Oxford Handbook of Sondheim Studies (pg. 42), Dominic Symonds points out the song's unconventional "A, B, B, C, A, A-extended" structure, noting that at the song's conclusion, the "A" section is developed and extended "to reveal Jud's dramatic journey through the song." Rodgers and Hammerstein would develop this form further in Carousel (1945) with Soliloquy. 
https://www.youtube.com/watch?v=phjhb1vLCv0
Lonely Town
The jazzy, escapist musical comedy On the Town opened on Broadway in 1944. The music was written by a young Leonard Bernstein, with lyrics and book by Betty Comden and Adolph Green. The show's plot follows three American sailors on a 24-hour shore leave in New York City during the Second World War. Lonely Town is Gabey's lament at not being able to find romance in the big city.
Harmonically, Lonely Town is restless, constantly unfolding, and never quite going where we expect. Bernstein seems to give a sly nod to Puccini in the final bars of the song. Lonely Town melts into the solitary blues of the Pas de deux dance sequence.
Lonely House
Kurt Weill's 1946 opera, Street Scene, with a libretto by Langston Hughes, premiered in Philadelphia and moved to Broadway in 1947. It is set on the doorstep of a tenement on the East Side of Manhattan over two scorching summer days. (The curtain opens on a song called Ain't it Aweful, the Heat?). Street Scene was based on Elmer Rice's 1929 Pulitzer-Prize-winning play of the same name. Weill offered this description of the story:
It was a simple story of everyday life in a big city, a story of love and passion and greed and death. I saw great musical possibilities in its theatrical device – life in a tenement house between one evening and the next afternoon. And it seemed like a great challenge to me to find the inherent poetry in these people and to blend my music with the stark realism of the play.
Lonely House is sung by Sam Kaplan, a teenager who is in love with Rose Maurrant. The song expresses the sensation of loneliness in a large crowd. Here is a performance by Lotte Lenya, an Austrian singer and actress who was Kurt Weill's wife: