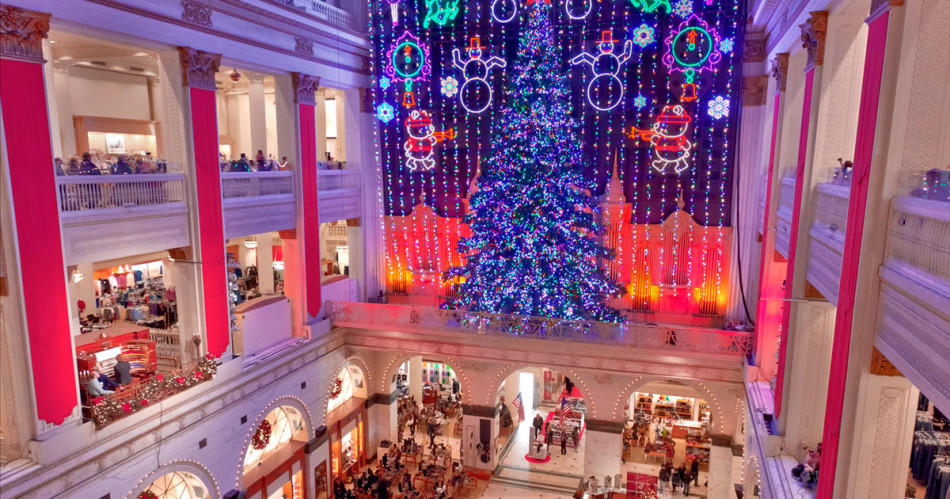 In celebration of the official start of the holiday season, let's swing by the grand old former Wanamaker's department store (now Macy's) in the heart of Philadelphia. The store is home to the largest fully functioning pipe organ in the world, with 28,604 pipes, 463 ranks, and six manuals. Originally built for the 1904 Saint Louis World's Fair, the instrument found a home in Wanamaker's seven-story Grand Court in 1909. It took thirteen railroad cars to transport the organ to Philadelphia.
You can hear this spectacular organ in action in this clip of a transcription of the Funeral March from Gotterdammerung, the fourth opera in Wagner's Ring Cycle. It's a piece which gradually unfolds in long waves of sound, amid a series of far-reaching modulations. At times, you might be reminded of John Williams' Star Wars film scores.
In 2010, midday shoppers suddenly found themselves in the middle of a flashmob performance of the Hallelujah Chorus from Handel's Messiah. The over 650 singers were from the Opera Company of Philadelphia. The event was part of the Knight Foundation's "Random Acts of Culture."
To learn more about the history of Wanamaker's department store, read Wanamaker's: Meet me at the Eagle by Michael Lisicky. A nationally recognized expert on the history of America's department stores, Michael is a former colleague of mine who is currently an oboist in the Baltimore Symphony.