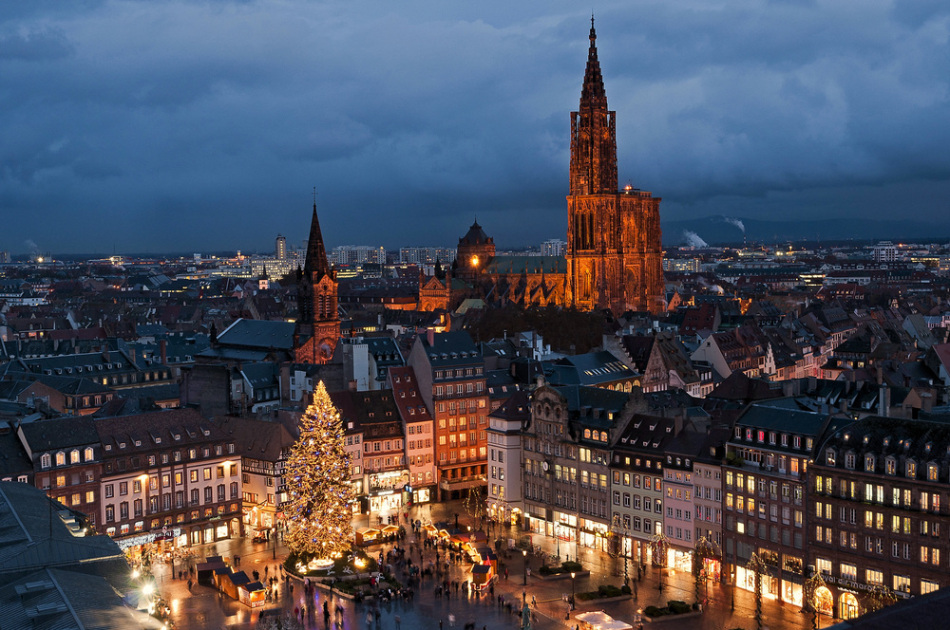 In Henry Wadsworth Longfellow's 1851 poem, The Golden Legend, a storm rages as Lucifer and a host of demonic spirits (Powers of the Air) try to tear down the cross from the spire of Strasburg Cathedral. Ultimately, Lucifer is defeated by the ringing of the Gothic cathedral's bells, which summon saints and guardian angels.
This dramatic poem was the inspiration for Franz Liszt's 1874 cantata, The Bells of Strasburg Cathedral. The work for baritone soloist and mixed chorus was dedicated to Longfellow, whom Liszt had met six years earlier. It's set in two sections: an opening prelude, Excelsior (in reference to another Longfellow poem) and The Bells which opens with Lucifer's furious invocation, "Hasten! Hasten! O ye Spirits!"
The Bells of Strasburg has remained remarkably obscure. It requires large forces and doesn't fit neatly into the category of opera or sacred music. As in the Faust Symphony, Liszt pushes the harmonic envelope. Wagner heard The Bells just before he started work on the opera Parsifal. His reaction to Liszt's cantata was luke warm, but elements of The Bells found their way into Parsifal. Listen to the Prelude to Parsifal and then compare its opening with the ascending opening line of The Bells of Strasburg Cathedral:
In the 1880s, Arthur Sullivan wrote his own Longfellow-inspired cantata, The Golden Legend. Listen to an excerpt here.
The Bells of Geneva and Rome
Following my recent Christmas Eve bell post, I started thinking about music influenced by the sound of bell ringing. Rachmaninov's choral Symphony, The Bells, based on Edgar Allan Poe's poem and the powerful C-sharp minor prelude, The Bells of Moscow come to mind.
Franz Liszt wrote at least two pieces for piano which suggest bells. Liszt's atmospheric Ave Maria is nicknamed "The Bells of Rome." The opening of this piece emerges with a Schubert-like purity.
Here is a performance by Stephen Hough:
[unordered_list style="tick"]
[/unordered_list]
Here is the nocturne, The Bells of Geneva, from the first of a set of three Suites for Solo Piano by Liszt. The performance is by Lazar Berman. A caption form Byron's Childe Harold's Pilgrimage is included in the score:
I live not in myself, but I become / Portion of that around me
https://www.youtube.com/watch?v=q04f-tZaGAo
[unordered_list style="tick"]
[/unordered_list]