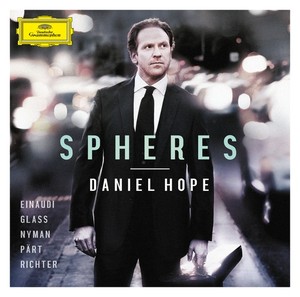 Musica universalis, or the "music of the spheres" is the ancient philosophical concept that the movements of the sun, moon and planets generate celestial vibrations. Pythagoras accidentally discovered that a musical pitch sounds in direct proportion to the length of the string which produces it. He was interested in the concept of universal harmony rooted in mathematical ratios-a unifying cosmic "music."
Violinist Daniel Hope's new CD, Spheres finds inspiration in these big ideas. Spheres puts music of J.S Bach and Johann Paul von Westhoff side by side with works by modern composers including Philip Glass, Lera Aurbach, Michael Nyman and Arvo Pärt. The result is a collection of short pieces which seem to transcend style and time period:
[quote style="boxed"]In this album my idea was to bring together music and time, including works by composers from different centuries who might perhaps not always be found in the same "galaxy" but yet are united by the age-old question: is there anything out there? -Daniel Hope[/quote]
The CD opens with Imitazione delle campane by Johann Paul von Westhoff (1656-1705), music which may have inspired Bach to write the Sonatas and Partitas for Solo Violin. This music could easily be mistaken for the modern minimalism of Arvo Pärt. Hope has some interesting things to say about this piece and the historical significance of Westhoff as a composer and violinist.

https://www.youtube.com/watch?v=dYF1IDSCEtk
Another excerpt from the CD is Musica Universalis by Alex Baranowski, a piece that was commissioned for the album by Daniel Hope:
Spheres also includes I Giorni (2001) by film composer Ludovico Einaudi:
Hope offers a track by track listener's guide to the CD. For more information on Spheres watch this interview and this clip with composer Gabriel Prokofiev (grandson of Sergei Prokofiev). If you're interested in hearing etherial and expressive new violin music as well as rediscovering a forgotten gem like the Westhoff, you'll enjoy this recording.
[button link="https://itunes.apple.com/us/album/spheres-einaudi-glass-nyman/id610956281″]Find on iTunes[/button] [button link="http://www.amazon.com/Spheres-Daniel-Hope/dp/B00AJGDQVK"]Find on Amazon[/button]