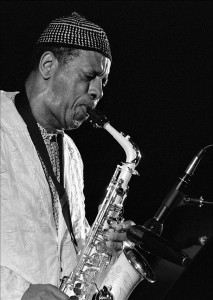 American jazz saxophonist and composer Ornette Coleman passed away yesterday in Manhattan at the age of 85. In the 1960s Coleman was at the forefront of free jazz, a movement which liberated jazz from its traditional harmonic and formal rules. This 1961 album and the 2005 Pulitzer Prize-winning Sound Grammar will give you a sense of the adventurous nature and rhythmic sophistication of Coleman's music. Traditional jazz was often built on melodies from the American songbook and followed a strict structure. Coleman's music discarded these conventions. The result was music which gradually evolved over longer periods of time and erupted with a uniquely visceral spontaneity. Coleman's distinctively mournful sound captured the soul of the blues.
John Zorn's "Spy vs. Spy"
I first discovered Ornette Coleman's music through an excerpt from John Zorn's 1989 album, Spy vs Spy: The Music of Ornette Coleman. Zorn, a saxophonist and New York Avant-garde composer, pushes Coleman's music into the world of thrash jazz and punk rock. We hear the rebellious edginess of rock…the thrilling, metallic, full decibel "noise" of the contemporary world.
Listen to Ornette Colman's original Good Old Days from the 1967 album, The Empty Foxhole:
https://www.youtube.com/watch?v=PpF1E-GwOls
Then listen to Zorn's take on the same music:
[unordered_list style="tick"]
[/unordered_list]
If you feel inspired, share your thoughts about the music in the thread below.