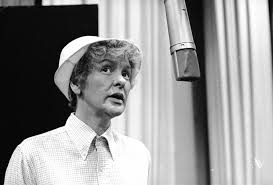 Legendary Broadway performer Elaine Stritch passed away last week at the age of 89. She may be best remembered for her performance of the song, The Ladies Who Lunch in the original 1970 Broadway production of Stephen Sondheim's musical comedy, Company. 
Company offers a psychological look at the nature of relationships and marriage. It eviscerates the musical theater's traditional escapism, replacing it with a healthy dose of realism. The song Sorry-Grateful contains the searing line, "You'll always be what you always were." That's not exactly the stuff of fantasy and cheery, unending optimism. At the same time Company is funny. Sondheim once said that he wanted the audience to laugh hilariously during the show and then to go home, unable to sleep.
The Ladies Who Lunch is a bitter, mocking soliloquy in which the character, Joanne, comments on what she perceives as the meaningless lives of stereotypical wealthy middle-aged women. Sung to the audience towards the end of Act 2, the song takes on a Brechtian quality. Martin Gottfried describes it as:
…a sardonic toast to the New York women who have money and intelligence but no purpose, time to do everything of no consequence. In its ironies it admires these overqualified idlers, these glib and sardonic survivors.
[unordered_list style="tick"]
[/unordered_list]
In The Ladies Who Lunch, Joanne's unhappiness is contrasted with the song's cool, "zoned out" bossa nova rhythm. There's also the icy quality of the muted trumpets and horns and the flute's quote of Mahler's Fourth Symphony in reference to the lyric. The song is filled with Sondheim's sophisticated internal rhyme ("much", "clutching", "touch).
In the final verse Joanne includes herself as an object of ridicule ("Here's to the girls who just watch"). Her final screams are reminiscent of Rose's emotional breakdown at the end of Gypsy (Sondheim wrote the lyrics for Jule Styne's music in that 1959 show).
This documentary shows the all night recording session for Company's original Broadway cast recording. Rodgers and Hart's You Took Advantage of Me from a 1954 revival of On Your Toes is from earlier in Elaine Stritch's career.