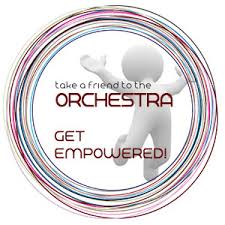 For many professional orchestra musicians and audience members, August offers a rare period of downtime and a chance for contemplation. Summer seasons and festivals are beginning to wind down, while subscription seasons remain just around the corner. There couldn't be a better time to explore the newly updated Take a Friend to the Orchestra (TAFTO) resource website, created by Drew McManus, arts consultant and author of the popular blog, Adaptistration. 
Take a Friend to the Orchestra is a series of fun and inspiring essays about how patrons can introduce their friends to the powerful, mysterious and even cathartic experience of a live orchestra concert. TAFTO tears down common stereotypes which may discourage some people from ever entering a concert hall. It reaffirms the idea that going to an orchestra concert should be fun, and should be an occasion which defies perceived rules about dressing up and knowing when to clap. Like sports teams, orchestras are cultural institutions which belong to the entire community. A wide range of viewpoints are represented, including, "critics, bloggers, musicians, classical music enthusiasts, and administrators." Back in 2006 I was honored to contribute an article to the series. Other contributors include Alex Ross, Sam Bergman, Lynn Harrell, Leonard Slatkin, Gerard Schwartz and Henry Fogel. Drew talks about the series in this interview. 
Reading these essays, you won't find gimmicky ideas or overhype about the need to re-invent the wheel in order to remain "relevant." Instead, you'll sense passion and enthusiasm for the magic of live orchestra concerts. In the next few weeks, explore the archive and then consider accepting this exciting grassroots challenge and take a friend to your local orchestra.