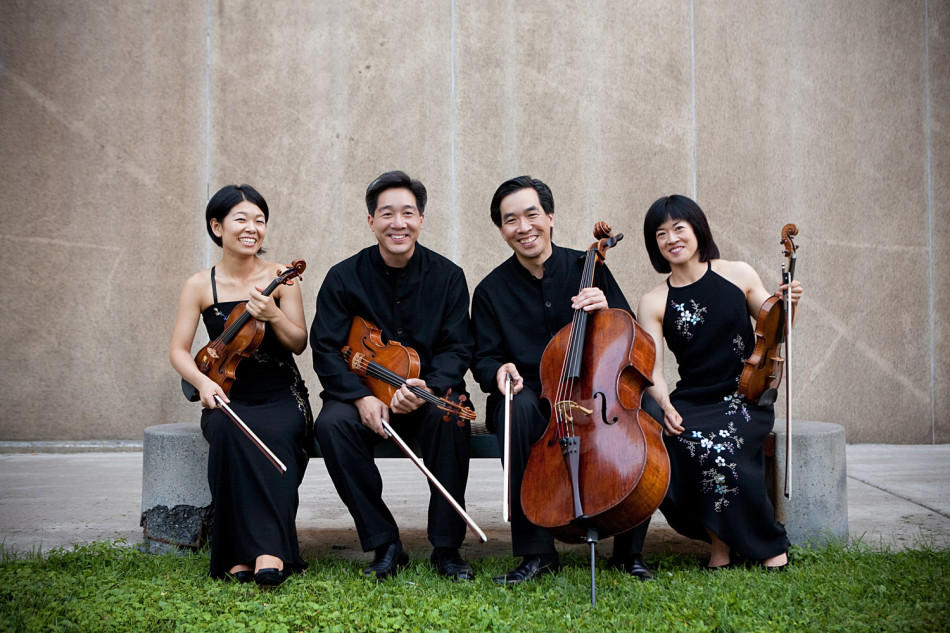 The finest professional string quartets exhibit an almost scary sense of chemistry. This cohesiveness, almost like a sixth sense, develops when the right combination of people spend hours a day performing together. The Ying Quartet, formed at the Eastman School of Music in 1988, enjoys an additional advantage: the founding members are siblings. Only the first violin position has changed in recent years with the departure of Timothy Ying in 2009. Beginning next season, Robin Scott will join the group, replacing current first violinist, Ayano Ninomiya.
Here are the Yings performing two Beethoven quartets in 2012. String Quartet No. 4 in C minor, Op. 18 is one of Beethoven's earliest string quartets, composed around 1801. We hear some of the "C minor fire" that I wrote about in my previous post, Beethoven and the Turbulence of C Minor. With the string quartet, Beethoven expanded on a form already developed by Haydn and Mozart. But the stormy drama and continuous surprises in this music must have been a shock to audiences at the time:
[ordered_list style="decimal"]
Allegro ma non tanto 0:00
Scherzo. Andante scherzoso quasi Allegretto 8:53
Menuetto. Allegretto 15:27
Allegro 19:08
[/ordered_list]
With String Quartet No. 15 in A minor, Op. 132, we enter the strange world of late Beethoven. Beethoven's music often plunges us into Romanticism. At moments, this quartet sounds as if it could have been written in the twentieth century. But the most unusual aspect of this music is the way it seems to take us beyond time and style. Occasionally, the music seems suspended in time. This is especially evident in the third movement, which Beethoven subtitled, Holy song of thanksgiving of a convalescent to the Deity, in the Lydian Mode. 
This quartet was written after the Ninth Symphony in 1825, two years before Beethoven's death. Just before the final movement begins, we hear a strange, passionate opera recitative without words. Similar allusions to opera occur in the final movement of the Ninth Symphony.
[ordered_list style="decimal"]
Assai sostenuto – Allegro 0:00
Allegro ma non tanto 9:56
Molto adagio 18:38
Alla marcia, assai vivace 34:19
Allegro appassionato 36:33
[/ordered_list]
[unordered_list style="tick"]
[/unordered_list]