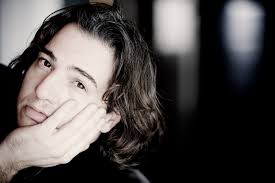 The free-spirited Turkish pianist and composer Fazil Say (b. 1970) is an artist who refreshingly resists easy category. As a concert pianist, Say performs all of the standard repertoire with emotional warmth and effortless technique (here he plays Ravel's Piano Concerto in G). As a composer, he has written symphonies, piano music, which draws on the prepared piano sounds popularized by John Cage and Henry Cowell (listen to the ethereal and sensuous Black Earth), a Sonata for Piano and Violin, and a Violin Concerto among other works.
Say's native Turkey (formerly the Ottoman Empire) has long been a vibrant crossroads between East and West. Appropriately, Say's music turns on a dime between Western classical influence, jazz and Middle Eastern sounds…a rich stew of influences reflecting an increasingly shrinking, global, twenty-first century world. It is also deeply rooted in improvisation (listen here and here). Throughout the twentieth century, a gulf grew between composers and performers. Music veered away from melody, tonality and popular influence. Composers like Fazil Say seem to be mending this gulf.
Here is an excerpt from Fazil Say's website:
Composing is always a form of improvisation: with ideas, with musical particles, with imaginary shapes. And it is in this sense that the artistic itinerary and the world-view of the Turkish composer and pianist Fazıl Say should be understood. For it was from the free forms with which he became familiar in the course of his piano lessons with the Cortot pupil Mithat Fenmen that he developed an aesthetic outlook that constitutes the core of his self-conception as a composer. Fazıl Say has been touching audiences and critics alike for more than twenty-five years in a way that has become rare in the increasingly materialistic and elaborately organised classical music world. Concerts with this artist are something else. They are more direct, more open, more exciting; in short, they go straight to the heart. And the same may be said of his compositions.
In future posts I'll have more thoughts on Fazil Say's compositions. In the meantime, as we enter the dog days of summer, here are Say's variations on George Gershwin's Summertime, written in 2005:
https://www.youtube.com/watch?v=jZIkyF4b9_M
[unordered_list style="tick"]
[/unordered_list]