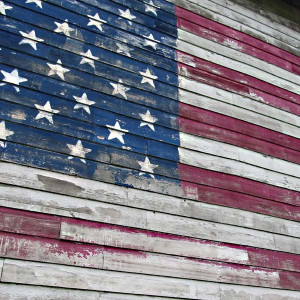 Aaron Copland's Old American Songs are full of ghosts. The collection of folk melodies Copland arranged in the early 1950s, at the request of Benjamin Britten, evokes memories of, and nostalgia for, the distant past. It's easy to get a similar feeling taking in the small slices of rural American landscape visible in brief glimpses from a moving car…an old dilapidated barn, a picturesque village church, the leafy solitude of an obscure roadside cemetery…
The first set of songs opens with The Boatman's Dance, an 1843 minstrel song which originally might have sounded something like this. It's what surrounds the tune (the piano accompaniment) that makes these settings so extraordinary. The opening chords of The Boatman's Dance are a proclamation, expansive like the wide open spaces of the American frontier. The irregular rhythm of the bass line which follows sparkles with the fun-loving, bawdy bustle of an Ohio river town in its heyday.
The second song, The Dodger, is a campaign song. In Songs of Work and Protest, Edith Fowke and Joe Glazer offer this history:
…"The Dodger" originated with the Western Farmers during the period of agrarian protest following the Civil War. It is linked specifically with the presidential election of 1884 when the Democratic candidate, Grover Cleveland, was running against Republican James Blaine. Cleveland had won the support of progressives by his fight against Tammany Hall in New York, and "The Dodger" was apparently used as a campaign song to belittle Blaine.
The next song is the folk ballad Long Time Ago. It's followed by Simple Gifts, the Shaker melody heard towards the end of Copland's ballet score, Appalachian Spring. The final song in the set is the comic children's song I Bought Me a Cat. (Listen to William Warfield's performance here).
Here is American bass Samuel Ramey's recording with pianist Warren Jones:
The second set of songs begins with a lullaby, The Little Horses. Listen to the searching voice which emerges in the piano around the 0:32 mark.
Next, we hear the revivalist song Zion's Walls. Copland drew on this melody for the finale of The Tender Land, an opera intended for television but ultimately rejected by the NBC Television Opera Workshop. (Listen to The Promise of Living from Copland's orchestral suite from the opera).
The Golden Willow Tree, the hymn tune At the River, and the minstrel song Ching-a Ring Chow finish out the set. At the River's noble procession of chords and confidently ascending bass line suggest expansive monumentality.
[unordered_list style="tick"]
[/unordered_list]