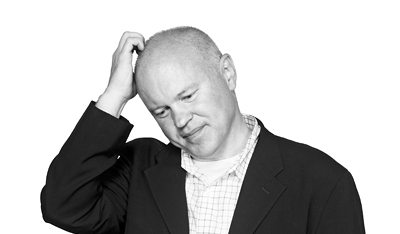 When you listen to the music of the most time-tested, enduring composers, it's easy to get a sense of effortless perfection, as if the music couldn't be any other way. It's impossible to know if Michael Torke, or any other living composer, will one day fall into the "enduring" category. But I often sense this quality in Torke's music. It speaks with sublime honesty. A strange combination of elements emerge in many of Torke's pieces: glossy, "even-better-than-the-real-thing" references to the past alongside hints of pop music and endearingly naive melodies.
We hear many of these elements in Tahiti, an eight-movement work written in 2009 and recorded by conductor Clark Rundell and Ensemble 10/10, the contemporary music ensemble of the Royal Liverpool Philharmonic Orchestra. According to Torke, Tahiti's descriptive movement titles are not intended to paint an image, but to suggest "the idea of humidity: they attempt to capture the perfume of leisure time in a very warm and sunny, beautiful place. In the program notes at Torke's website, he also quotes this passage from Herman Melville's Moby Dick:
For as this appalling ocean surrounds the verdant land, so in the soul of man there lies one insular Tahiti, full of peace and joy, but encompassed by all the horrors of the half known life. God keep thee! Push not off from that isle, thou canst never return!
Here is the seventh moment of Tahiti, Huahine: under the moonlight. At moments (like the woodwind-mallot voice at 0:34), the music seems reminiscent of Torke's 2002 tone poem, An American Abroad. Part of the recording's unique flavor is the result of decisions made in the recording studio. Torke wanted it to have the glossy, atmospheric sheen of a late 1960s-early '70s Burt Bacharach track:
[unordered_list style="tick"]
Explore more of Michael Torke's music in the Listeners' Club archive.
[/unordered_list]