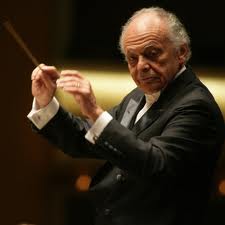 Conductor Lorin Maazel passed away yesterday at the age of 84. He will be remembered for his long, distinguished career and dramatic and idiosyncratic interpretations.
Maazel debuted as a conductor at the age of 9, after starting violin lessons at 5. As an 11-year-old, he received an invitation from Arturo Toscanini to conduct the NBC Symphony. His music director posts included the Cleveland Orchestra (1972-1982), Vienna State Opera (1982-1984), Pittsburgh Symphony (1988-1996), Bavarian Radio Symphony Orchestra (1993-2002) and the New York Philharmonic (2002-2009). In 2008 he served as a cultural ambassador, leading the New York Philharmonic on a tour of North Korea. In 2009 Maazel and his wife founded the Castleton Festival, a summer program for young musicians at his Virginia estate.
Learn more about Lorin Maazel's life in this obituary at The Guardian and this PBS Newshour interview.
These memorable quotes reflect Maazel's views on the essential role of the arts in society:
Art rises above and beyond the issues of the day. It reunites what has been rent asunder, not along national or religious lines, but along individual, human ones. It heals, redefines goals, and strengthens the resolve to move on, to rebuild, to reconstruct. However obtuse human behavior is in other arenas, art, if not suborned, can clarify, put into perspective and re-inspire.

Our Orchestra must also continue to play its leadership role in the community and in our nation. The young look to us to provide substance in place of dross, emotional depth in place of shallow titillation.

In these confused times, the role of classical music is at the very core of the struggle to reassert cultural and ethical values that have always characterized our country and for which we have traditionally been honored and respected outside our shores.
Here is the final movement of Dvořák's "New World" Symphony with the New York Philharmonic:
https://www.youtube.com/watch?v=EJ8jXnVxHM4