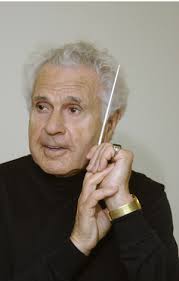 Conductor Julius Rudel passed away yesterday at the age of 93. He will be remembered most for his 22-year leadership of New York City Opera, beginning in 1957. Sadly, the once innovative company, known as the "People's Opera," filed for bankruptcy last October. During Julius Rudel's tenure, the opera gave 19 world premieres and vigorously promoted American works. This 1966 clip of Placido Domingo singing Senor del person from Alberto Ginastera's Don Rodrigo will give you a sense of the City Opera's adventurous programming.
Rudel established a close partnership with soprano Beverly Sills and helped launch the careers of countless singers. Between 1979 and 1985 he served as music director of the Buffalo Philharmonic. His memoir provides an account of his escape from the Nazis as a 17-year-old and his success in establishing one of the word's most influential opera companies.
I remember playing under Rudel once for a summertime outdoor performance of Carl Orff's Carmina Burana. He produced an inspiring performance and exuded the calm, politely authoritative aura of a veteran maestro who knew exactly what he wanted to hear from the orchestra.
This interview provides a fascinating overview of his life. Here is a tribute from the Buffalo News.
Rudel conducts the Finale of Act 1 of Vincenzo Bellini's I puritan: