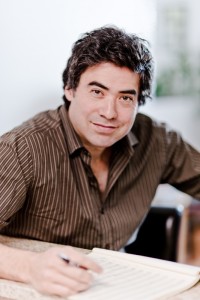 If you're near Chicago this evening, head down to the Loop and swing by the Pritzker Pavilion at Grant Park. Conductor Carlos Kalmar and the Grant Park Orchestra will give the world premiere performance of Kenji Bunch's Symphony No. 3: Dream Songs. The work is based on Native American folksongs and texts collected in 1879 by the Smithsonian Institution's Bureau of American Ethnology. The Bureau's preservation of the last vestiges of tribal music seems to have been the American equivalent of efforts by Béla Bartók and Zoltán Kodály to collect Eastern European folk music in the twentieth century. Kenji Bunch offers the following description:
Abstracted from their original voices and ceremonial use, these terse, plain-spoken texts offer timeless wisdom and emotional insights that feel hauntingly relevant in today's precarious times. 'Dream Songs,' is a song cycle scored for full orchestra and chorus adapted from these translations (particularly the work of Frances Densmore). I organized the eight songs of the cycle into three parts: Songs of Anxiety and Unrest; Songs of War and Its Aftermath; and, ultimately, Prayer of Healing.
A native of Portland, Oregon, Kenji Bunch studied composition and viola at the Julliard School. Currently, he serves as artistic director of the group Fear No Music. His music is anything but academic. Its vocabulary springs from all the sounds around us…pop music, blues, film scores, concert music. It demolishes perceived boundaries and categories. Fresh elements seem to emerge in each piece leading to multiplicity of style. In the final analysis, it's just music. At his website, Kenji Bunch offers this description:
With the emergence of a New American Cuisine in the culinary world, we see a renewed interest in honoring and elevating classic dishes of American regional cuisine by combining locally sourced ingredients, the techniques of classical European traditions, and the artistic imagination unique to each chef. In this spirit, with my music I draw inspiration from the locally sourced sounds I hear around me and the uniquely American art forms they come from, then combine these elements with the techniques of my classical training into my own personal vocabulary that strives to honor our past while suggesting new possibilities for the future.
Here is a sampling of music by Kenji Bunch:
The atmospheric I Dream in Evergreen performed last March by the composer and his wife, pianist Monica Ohuchi:
Concerto for Piano Trio and Percussion written in 1996:
The smoky, soulful blues of Étoufée for solo viola:
Etude No. 4 from Monica's Notebook hints at the expansive power of the organ and bring Lisztian bravura into the twenty-first century:
Kenji Bunch offers this description for Dies Irie:
When I was trying to write the words "Dies Irae" (Latin for "Day of Wrath"), I misspelled it and wrote "Dies Irie". In the Jamaican patois, irie loosely translates to "everything is okay." 
So I tried to write some music that sounded like a day when everything is okay.
Violinist Robert Simonds performs Until Next Time:
[unordered_list style="tick"]
[/unordered_list]