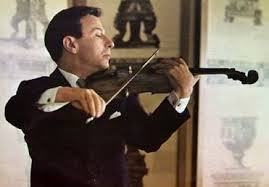 Let's finish out the week with a few recordings of Nathan Milstein (1904-1992), one of the twentieth century's most extraordinary violinists. Infused with elegance, style and thoughtful musicianship, Milstein's playing never sounds dated. These recordings demonstrate his ability to draw out the most ringing tone from the violin, using the speed and energy of the bow. The purity of his intonation and subtle, well controlled vibrato remain impressive.
Milstein, who was born in Russia and spent much of his life in the United States, was one of the last students of Leopold Auer, the legendary teacher of Mischa Elman and Jascha Heifetz. Throughout his life, he was known for constantly finding new ways to approach technical and musical problems. He never stopped experimenting and learning, and as a result, his playing remained at a high level into old age. He performed his final recital at the age of 82.
We'll start with a 1957 recording of Antonín Dvořák's Violin Concerto in A minor, Op 53 with William Steinberg conducting the Pittsburgh Symphony.
[ordered_list style="decimal"]
Allegro ma non troppo (0:00)
Adagio ma non troppo (9:08)
Finale. Allegro giocoso (19:48)
[/ordered_list]
https://www.youtube.com/watch?v=S4uYFbnyqp0
[unordered_list style="tick"]
[/unordered_list]
Here are the Adagio and Fugue from J.S. Bach's Solo Sonata No. 1:
[unordered_list style="tick"]
[/unordered_list]
…and now, for dessert, here is a spectacular performance of Henri Wieniawski's Scherzo tarantella, Op. 16:
[unordered_list style="tick"]
[/unordered_list]