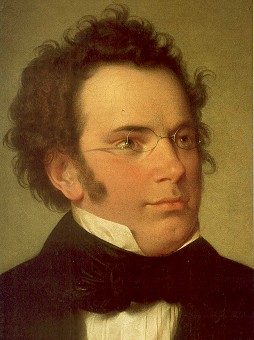 Sometimes the most profound musical statements flow out of simplicity. Rooted in song, the music of Franz Schubert often seems to say a lot with a few, seemingly effortless notes. The Sanctus from Schubert's Deutsche Messe, D. 872 (German Mass) is a good example. 
In the traditional Latin liturgical text, Sanctus sounds like a stirring proclamation, "Holy, Holy, Holy, God of power and might." These lines have inspired composers from Mozart and Verdi to John Rutter to write soaring, contrapuntal music. By contrast, Schubert's Sanctus is a simple, introspective chorale. 
Written in 1827, near the end of Schubert's short life, the German Mass is set to poems by Johann Philipp Neumann rather than the traditional Latin text. Neumann commissioned Schubert to write simple, homophonic music that would be easy for an entire congregation to sing. Although intended for a Catholic service, the work was banned because it was an "unauthorized" German translation of the Mass. You can listen to the entire German Mass here.
Listen carefully to the inner voices. Schubert sets up our expectation and then throws in some thrilling harmonic surprises:
[unordered_list style="tick"]
[/unordered_list]