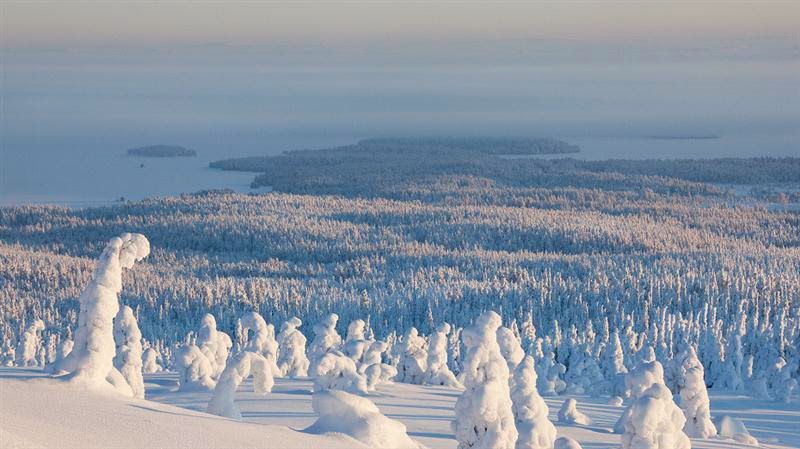 In 1990 the Helsinki Philharmonic commemorated the 125th anniversary of Jean Sibelius' birth with the commission of Tundra, a short but powerful orchestral piece by Danish composer Poul Ruders (b. 1949). Wednesday's post featured the dark, brooding sounds of Sibelius' Fifth Symphony. You'll hear a similar icy, Scandinavian sonic landscape in Ruders' Tundra. There are also direct echoes of Sibelius. Take a moment and listen to the Sibelius Fifth's singular climactic event, the distinctive "Swan Theme" played by the horns in the final movement. A ghostly fragment of this theme surfaces briefly in Tundra. 
Following the Seventh Symphony, incidental music for The Tempest, and a few shorter works, Sibelius descended into a permanent period of artistic silence. Despite efforts to complete an eighth symphony, he would remain unable to write any music for the remainder of his life. Unable to access the source of earlier inspiration, Sibelius was left with the vast, inconceivable power of nature, as Alex Ross describes:
Suddenly dissatisfied with the fluid form that had evolved in the Fifth, he began to dream of a continuous blur of sound without any formal divisions—symphonies without movements, operas without words. Instead of writing the music of his imagination, he wanted to transcribe the very noise of nature. He thought that he could hear chords in the murmurs of the forests and the lapping of the lakes; he once baffled a group of Finnish students by giving a lecture on the overtone series of a meadow. Whatever he succeeded in putting on paper seemed paltry and inadequate.
Tundra's massive layers of sound suggest a similar connection to the eternal hum of nature. This is Leif Segerstam conducting the Danish National Radio Symphony Orchestra:
[unordered_list style="tick"]
[/unordered_list]