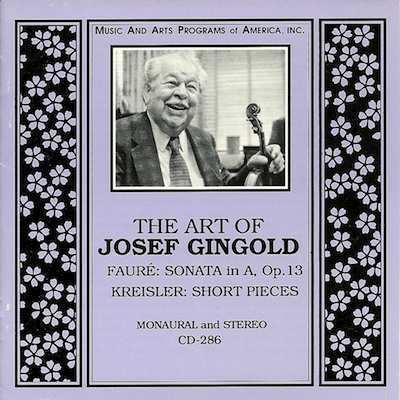 Over the weekend, I ran across this amazing 1966 live concert recording of Josef Gingold performing Gabriel Fauré's First Violin Sonata. The recording's sound quality isn't the best. But the essence of Gingold's soulful, sweetly vibrant tone and smooth, golden phrasing cuts through the tape hiss and audience noise. In a recent interview Joshua Bell described the tone that poured out of Gingold's Strad as, "the most beautiful sound of any violinist, to this day, that I've heard."
A student of Belgian violinist Eugène Ysaÿe (1858-1931), Gingold performed in Toscanini's NBC Symphony and served as concertmaster of the Cleveland Orchestra under George Szell. Remembered as one of the twentieth century's most important violin teachers, Gingold served on the faculty of Indiana University's Jacobs School of Music for more than thirty years. His students included Joshua Bell, Corey Cerovsek, Leonidas Kavakos, Miriam Fried, and William Preucil. In a past Listeners' Club post, we explored Gingold's approach to violin playing and teaching.
Gabriel Fauré's music often seems to float with an elegant effervescence and buoyant sense of forward motion. Musicologists have viewed Fauré as a link between Romanticism and the hazy, rule-breaking Impressionism of Claude Debussy. We hear all of this in the Violin Sonata No. 1 in A Major. First performed in 1877, the piece was initially rejected by Parisian publishers who found its harmonies shockingly adventurous. Camille Saint-Saëns, who had been Fauré's teacher, wrote:
In this Sonata you can find everything to tempt a gourmet: new forms, excellent modulations, unusual tone colors, and the use of unexpected rhythms…And a magic floats above everything, encompassing the whole work, causing the crowd of usual listeners to accept the unimagined audacity as something quite normal. With this work Monsieur Fauré takes his place among the masters.
Here is the first movement, Allegro molto. The music opens with waves of luxurious sound in the piano. The violin enters, picking up the piano's motive and developing it. The music soars increasingly higher, culminating in a particularly luscious passage (1:08-1:17) before falling back. At moments, you may be reminded of César Franck's Violin Sonata, also in A major, written a few years later in 1886.
In this performance Gingold is joined by pianist Walter Robert.
The second movement, Andante:
The third movement, Allegro vivo:
The fourth movement, Allegro quasi presto:
[unordered_list style="tick"]
Joshua Bell talks about Gingold in this Strad Magazine interview.
[/unordered_list]