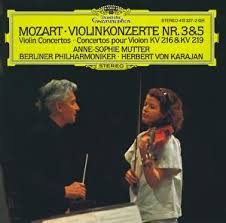 Anne-Sophie Mutter first recorded Mozart's Violin Concertos (No. 3 and 5) at the age of 14 with Herbert von Karajan and the Berlin Philharmonic (listen here). I grew up listening to this excellent recording, which features the slightly slower tempos you might expect from von Karajan, but nonetheless great sense of style and beautiful singing tone.
In 2005 Mutter re-recorded the Mozart Concertos as part of her ambitious Mozart Project, this time with the London Philharmonic (listen here). She talks about the project here. Her approach in this later recording is slightly more free in terms of tempo. In general, it's a more dramatic reading with a wider range of tone colors.
Recently, I ran across Concerto No. 5 in A major, K. 219 with Mutter and the Camerata Salzburg Orchestra (below). She leads the orchestra as soloist, in keeping with the way it would have been performed in Mozart's day. Listen for the "Turkish" dance in the final movement. The exotic sounds of the East were fashionable in Mozart's time.
[ordered_list style="decimal"]
Allegro Aperto – Adagio – Allegro Aperto
Adagio
Rondeau – Tempo di Minuetto
[/ordered_list]
https://www.youtube.com/watch?v=ETXPKHPPov8
[unordered_list style="tick"]
[/unordered_list]