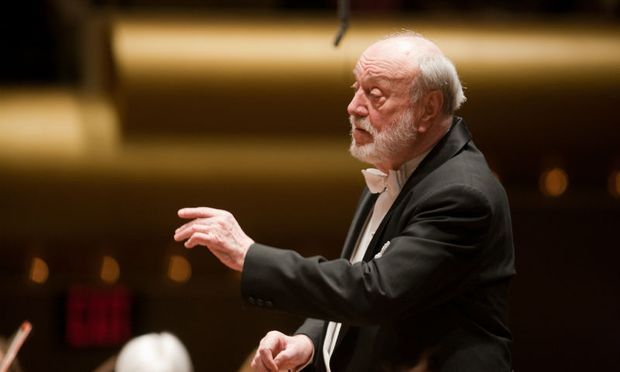 Conductor Kurt Masur passed away on December 19, following a battle with Parkinson's disease. He was 88.
Masur will be remembered for his 26-year association (beginning in 1970) with the Leipzig Gewandhaus Orchestra, a storied ensemble once led by Felix Mendelssohn. Kurt Masur brought powerful political, as well as musical, leadership to Leipzig. In 1981, following the destruction of the previous Gewandhaus in the fire-bombings of the Second World War forty years earlier, he was instrumental in rebuilding the orchestra's concert hall. In 1989, as the Iron Curtain began to fall, Masur assumed a surprising diplomatic role, easing tensions between protesters and the Stasi police of East German dictator Erich Honecker, by publicly calling for restraint and opening the Gewandhaus for political dialogue.
I remember watching Kurt Masur's nationally televised first concert as music director of the New York Philharmonic in 1991. The program opened with John Adams' Tromba Lontana and Short Ride in a Fast Machine and concluded with Bruckner's Seventh Symphony, part of the German Romantic core of Masur's repertoire. Kurt Masur was widely credited with restoring the tonal depth and cohesiveness of the Philharmonic, which had gained a reputation for undisciplined performances and displays of disrespect towards visiting conductors. Masur may have had the New York Philharmonic in mind when he said, "An orchestra full of stars can be a disaster."
In 2002, Kurt Masur stepped down as music director of the New York Philharmonic and went on to hold principal conductor positions with the London Philharmonic and the Orchestre National de France.
If you've ever wondered what sets a great conductor like Kurt Masur apart, watch a few brief clips from Masur's masterclasses with young conductors at the Verbier Festival Academy (here, here, and here). Masur seems to demonstrate the power of a focused, inner energy which goes beyond mere time beating to unlock the soul of the music.
Here are five of Kurt Masur's extraordinary recordings. His style seems be characterized by honest, straightforward, noble music making without a hint of ego or flashiness. His tempos, free from arbitrary expressive "push and pull," allow the music to speak naturally.
Brahms' Second Symphony
Here is a live concert performance of Brahms' Second Symphony with the Leipzig Gewandhausorchester at Leipzig's Church of St. Nicolai. The concert marked the twenty year anniversary of the "Peaceful Revolution" which began on October 9, 1989. Twenty years earlier, to the day, Masur led the orchestra in Brahms' Second Symphony at this location:
Bruckner's Fourth Symphony
Here is the first movement of Bruckner's Fourth Symphony from a 1978 recording with the Leipzig Gewandhausorchester:
Listen to the second, third and fourth movements.
Debussy's Prélude à l'après-midi d'un faune
Following a long hiatus, the New York Philharmonic began to record again during Kurt Masur's tenure (on the Teldec label). Here is an extraordinary live concert recording of Claude Debussy's Prelude to the Afternoon of a Faun with the New York Philharmonic:
https://www.youtube.com/watch?v=Y-vksS3qqx0
Schubert's Eighth Symphony
This recording of Schubert's "Unfinished" Symphony, featuring the London Philharmonic Orchestra, was released in 2007. From the opening lower string lines to the shivering string tremolos, this performance captures the ghostly essence of late Schubert:
Listen to the second movement here.
Brahms' German Requiem
Nine days after the September 11, 2001 terrorist attacks, Kurt Masur led the New York Philharmonic in Brahms' Requiem. The benefit concert was broadcast to more than 30 television networks and 8,000 radio stations. This recording, featuring the New York Philharmonic with soprano Sylvia McNair, baritone Håkan Hagegård, and the Westminster Symphonic Choir was released in 1995:
[unordered_list style="tick"]
[/unordered_list]