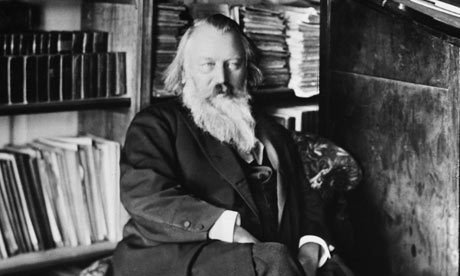 Let's finish the week with Johannes Brahms' Intermezzo in E major, No. 4 from the Seven Fantasies, Op. 116 for piano. Written in 1892 in the final years of Brahms' life, this is music infused with a deep sense of lonely introspection. It draws us into a dreamlike world where every chord and hesitating pause seem to have something important to say.
There are moments when the rhythmic feel changes in interesting ways, obliterating our sense of "strong" and "weak" beats. We also get a visceral sense of the spacial dimension in this music: lines pull apart and converge in an elaborate musical architecture. We feel the width of the piano's keyboard. And listen to the aching beauty of this passage, in which a series of voices pour passionately from the piano in imitative, canonic counterpoint.
As Op. 116, No. 4 draws to a close, the pitch "E" in the bass takes on increasing power, as if to foreshadow the inevitability of a final resolution. When that resolution comes, it's met with peaceful acceptance.
Here is American pianist Richard Goode's 1987 recording:
[unordered_list style="tick"]
András Schiff plays the entire Seven Fantasies, Op. 116 in this live performance.
[/unordered_list]