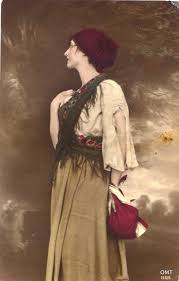 If you're a Suzuki violin student, you know the charmingly quirky Gavotte from "Mignon" by the transcription in Book 2. You may be less familiar with the piece's composer and origin.
Mignon was a wildly successful 1866 French comic opera by Ambroise Thomas (1811-1896), longtime director of the Paris Conservatory. The three-act opera is based on Goethe's novel, Wilhelm Meisters Lehrjahre. Its soap opera-like plot centers around a passionate romantic rivalry between two contrasting female characters: the seductive and unscrupulous Philine and the sweet, loving Mignon (who was kidnapped by Gypsies as a child and later discovers that she is the daughter of a wealthy gentleman). 
The Rondo-Gavotte, Me voici dans son boudoir, is sung in Act 2 by Frédéric, a young nobleman who is infatuated with Philine. He stands in her empty dressing room, overcome with excitement and anticipation at the prospect of seeing her. Although originally written for a lyric tenor, the aria is now also commonly sung by sopranos. Here is a performance by Marilyn Horne:
Other notable arias from Mignon include Non conosci il bel suoi and the final love duet, Ah ! son felice, son rapita. Here is the overture.
Sarasate's Violin Transcription
By 1919, Mignon had enjoyed 1,500 performances at the Opéra-Comique in Paris where it opened. The opera's popularity inspired this virtuoso showpiece, Romance et Gavotte de Mignon op.16, by Spanish violinist Pablo de Sarasate. Here is a recording by Tianwa Yang. You'll hear the familiar Gavotte melody around the 4:40 mark:
Suzuki's "Mignon"
From a pedagogical perspective, Suzuki's transcription is valuable for both bow arm and left hand violin technique. Staying mainly in the middle of the bow, the eighth notes allow the student to listen for short but "ringing" staccatos, feeling a sense of springy connection and release with the bow (toh, toh). Later, as the student becomes more advanced, the sixteenth notes can become a brushy spiccato. Eighth notes in measures 38 and 42 can lift with a feeling of the elbow pushing the bow towards the Frog. Frequent re-takes with the bow should be timed so as not to cheat the preceding quarter notes. In the four note trills in measure five, a small amount of bow should be used with quick, precise energy in the left hand.
In the middle section, finger placement of the low B-flats and Fs should be practiced slowly and carefully, maintaining relaxation and correct shape of the left hand. The B-flat major scale is helpful for intonation in this section. The student gets great practice alternating between F-sharps and Fs and Bs and B-flats in this piece.
Most importantly, Gavotte from "Mignon" is about capturing an immaculate French style. Precise (never rushing) rhythm and a feeling of flow and motion to the ends of phrases are essential to this sense of style.