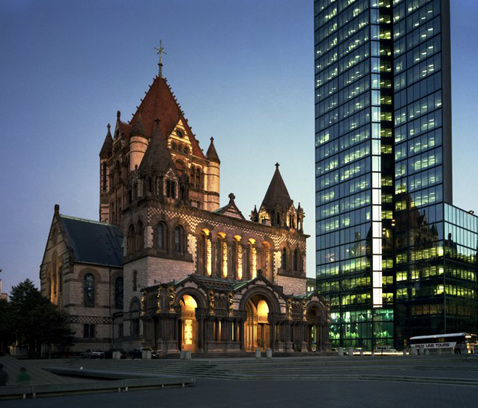 Yesterday marked the anniversary of the birth of noted nineteenth century American architect Henry Hobson Richardson (1838-1886). Richardson's memorable and influential designs include the turreted Allegheny County Courthouse in Pittsburgh, Albany's City Hall and New York State Capital, Buffalo's New York State Asylum, and Chicago's mighty Marshall Field Wholesale Store (now demolished), as well as a host of libraries and houses in smaller towns.
Richardson's buildings, load-bearing and often featuring extensive stone and masonry, convey a sense of rugged weight and accentuate a fascinating play of solids and voids. The Beaux-Arts-trained  architect developed a medieval revival style, imitated by later architects through the early years of the twentieth century, which became known as "Richardsonian Romanesque."
Henry Hobson Richardson's most famous work is undoubtedly Trinity Church in Boston's Back Bay, built between 1872 and 1877 and designated one of the "Ten Most Significant Buildings in the United States" by the American Institute of Architects. The church anchors Copley Square, its enormous central tower creating a dramatic visual approach. In the absence of an "American" style, nineteenth and early twentieth century architects looked to historical examples in Europe. (In the case of Trinity Church, a fresh new form emerges, rather than a simple copy). Richardson wrote,
…the style of the Church may be characterized as a free rendering of the French Romanesque, inclining particularly to the school that flourished in the eleventh century in Central France.
Despite its size, Henry Cobb and I.M Pei's neighboring 790-foot-tall John Hancock Tower, completed in 1976, defers to Trinity Church. Its sliver-thin side meets the square with an axis which keeps the church the center of attention. Mirrored glass almost makes it seem to disappear as it reflects its surroundings and becomes a liquid contrast to Trinity Church's solidity.
As we celebrate Henry Hobson Richardson's legacy, let's step inside and hear the extraordinary Trinity Church choir. Here is a playlist featuring their 1999 Naxos recording, Radiant Light – Songs for the Millennium. Opening with Franz Biebl's Ave Maria, the CD includes meditative music by Arvo Pärt, John Tavener, Tchaikovsky, Randall Thompson, and John Rutter:
[unordered_list style="tick"]
[/unordered_list]