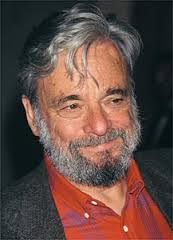 Recently, I ran across Rob Kapilow's fascinating What Makes it Great analysis of Stephen Sondheim's Send in the Clowns. Kapilow shows how elements of the song's melody and harmony evoke a complex mix of emotions. 
Written for the second act of A Little Night Music , which opened on Broadway in 1973, Send in the Clowns may be the ultimate anti-romantic ballad. It's a song about the bitterness, disappointment and the regret of missed opportunity. In an interview, Sondheim offered this description:
Send in the Clowns" was never meant to be a soaring ballad; it's a song of regret. And it's a song of a lady who is too upset and too angry to speak– meaning to sing for a very long time. She is furious, but she doesn't want to make a scene in front of Fredrik because she recognizes that his obsession with his 18-year-old wife is unbreakable. So she gives up; so it's a song of regret and anger, and therefore fits in with short-breathed phrases.
Send in the Clowns is sung by the character Desirée Armfeldt, a once glamorous but now fading actress. Throughout the song she uses theater references to talk about the failures and regrets of her life. "Sending in the clowns" relates to bringing on the jokes to save a show which isn't going well. Desirée is also saying, "aren't we the fools?" 
A Little Night Music, based on Ingmar Bergman's 1955 film Smiles of a Summer Night, is simultaneously a comic and tragic farce in which romantic couples are hopelessly mismatched, but eventually find their compatible partner. The show opens with a Greek chorus of five singers and the Night Waltz. At the end, we magically dissolve back into the night, putting human follies in perspective.
With this dramatic context in mind, let's listen to Judi Dench's extraordinary 2010 performance of Send in the Clowns. The performance was part of a BBC Proms concert celebrating Sondheim's 80th birthday. Notice the melancholy loneliness of the opening clarinet solo and listen for those special expressive chords which Kapilow highlights: