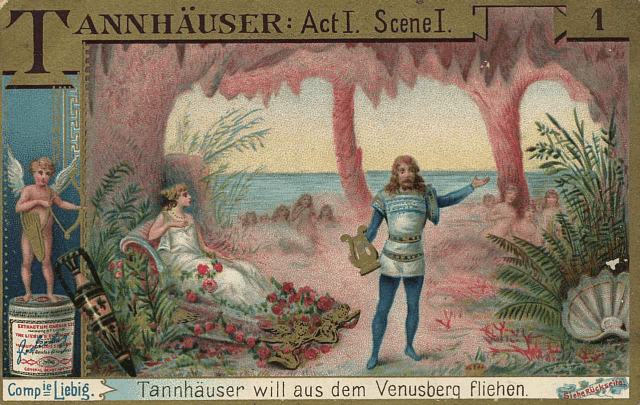 To finish out the week, here is a particularly exciting performance of Wagner's Overture to the 1845 opera, Tannhäuser. The clip comes from a special 2005 concert at the Vatican in the presence of Pope Benedict. Christian Thielemann is conducting the Munich Philharmonic.
Tannhäuser is based on two German legends, one involving a singing contest at medieval Wartburg Castle, which sits on a rocky outcrop 1,350 feet above the town of Eisenach. The Overture opens with a quietly noble and unassuming chorale. Just before the curtain rises, the chorale reaches a climax with a heroic statement in the trombones.
Orchestral string players associate Wagner with endless, repetitive, and often physically taxing running passages, which provide dramatic counterpoint to the other musical lines. In this clip, you'll hear plenty of those exciting moments (listen to the flutter of energy coming from the second violins and violas around 6:10 and the violas and cellos at 9:06). Listen to the way string sequences snake around the chorale melody, beginning at 10:45. These inner voices are an essential part of the overture's drama and intensity.
https://www.youtube.com/watch?v=KTM7E4-DN0o
Historic Tannhäuser Recordings, Munich and Beyond
Here are a few historic recordings of the Munich Philharmonic playing the Tannhäuser Overture:
[unordered_list style="tick"]
[/unordered_list]