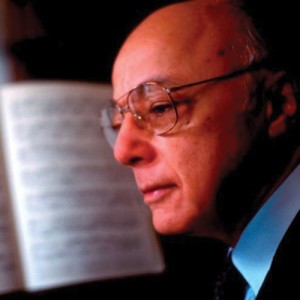 American pianist and teacher Seymour Lipkin passed away on Monday. He was 88.
Born in Detroit, Lipkin studied with Rudolf Serkin, Mieczyslaw Horszowski, and David Saperton. During the Second World War, while still a student at Curtis, he accompanied Jascha Heifetz in concerts for American troops stationed around the world. In 1948 Lipkin won the Rachmaninov Competition, launching a significant solo career. He was a longtime faculty member of both the Juilliard School and the Curtis Institute of Music. In his youth, he studied conducting with Serge Koussevitzky at Tanglewood and George Szell as an apprentice at the Cleveland Orchestra.
Interviews suggest that Seymour Lipkin was the model of a well-rounded artist. As a teenager he was inspired by the music from Wagner's Ring Cycle. (He would later serve as Curtis' opera pianist). For students, he stressed the importance of listening to a variety of music and developing your own interpretation.
Seymour Lipkin was regarded as one of the finest interpreters of the music of Beethoven. In 2004 he released the complete cycle of Beethoven's piano sonatas on the Newport Classics label. Unlike many artists, he was intimately involved in the editing of his recordings, with the goal of capturing the spontaneity and cohesiveness of a live performance. Here, he plays the stormy first movement of Beethoven's "Pathétique" Sonata:
In contrast to the opening movement, the second movement of the "Pathétique" moves to a serene new world:
Here is the Rondo:
[unordered_list style="tick"]
[/unordered_list]