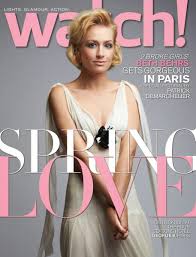 There was a time when major networks, such as CBS and NBC, employed their own orchestras (watch this clip of Arturo Toscanini leading the NBC Symphony) and television shows included a full minute of credits, accompanied by theme music. Revisit the opening of Cheers, compare it to the fast pace of today's media and consider what we've lost. TV theme music allowed for reflection (even if it wasn't deep reflection) and established the atmosphere of the show.
Interestingly, as media moves online, CBS's Watch Magazine may be taking a step back in the direction of musical branding. The entertainment and lifestyle magazine recently hired English violinist Charlie Siem to compose and perform a soundtrack, which will be used for marketing and promotion. You can see how the music fits the branding concept here:
Siem's music draws upon influences from Philip Glass to Ralph Vaughan Williams. Listen to Vaughan Williams' Fantasia on a Theme by Thomas Tallis, Elgar's Serenade for String Orchestra in E minor Op.20, and Finzi's Prelude for String Orchestra in F minor Op. 25  for a sample of the rich English string orchestra tradition which Siem modeled.
Charlie Siem's Canopy was recorded last December at St. Silas the Martyr Church in London. Siem is joined by the English Chamber Orchestra:
https://www.youtube.com/watch?v=CcSCJ9_k17k
[quote]We like to think the magazine is elegant and refined and glamorous and this music hits those highlights.[/quote]
-Jeremy Murphy, Watch editor in chief