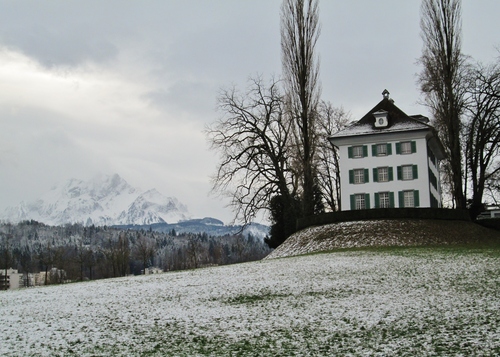 On Christmas morning, 1870 Cosima Wagner, the wife of Richard Wagner and daughter of Franz Liszt, awoke to the sound of music:
"As I awoke, my ear caught a sound, which swelled fuller and fuller; no longer could I imagine myself to be dreaming: music was sounding, and such music! When it died away, Richard came into my room with the children and offered me the score of the symphonic birthday poem. I was in tears, but so were all the rest of the household. Richard had arranged his orchestra on the staircase, and thus was our Tribschen consecrated forever."
Siegfried Idyll was simultaneously a grand gesture and an intimate musical love letter. It was Wagner's combined Christmas and birthday gift to Cosima, as well as a celebration of the recent birth of their son, Siegfried, nicknamed "Fidi". The original title, Triebschen Idyll with Fidi's birdsong and the orange sunrise, as symphonic birthday greeting, Presented to his Cosima by her Richard, suggests details in the music which were of personal significance to the couple. A lullaby, Schlaf, Kindlein, schlaf, played by the oboe (4:39, below), may have been linked to Wagner's oldest daughter, Eva.
Wagner never intended for Siegfried Idyll to be performed publicly, but financial pressures forced him to sell the score to the publisher B. Schott in 1878. In order to accommodate the logistics of the stairway outside Cosima's bedroom, the original version required a small chamber orchestra of 13 musicians: flute, oboe, two clarinets, bassoon, two horns, trumpet, two violins, viola, cello, and double bass. When Siegfried Idyll was published, Wagner expanded the orchestration to include a larger orchestra.
The opening of Siegfried Idyll seems to emerge out of subconsciousness. You can almost hear the piece waking up at the first light of dawn, gradually finding its way forward. Birdsongs (around 10:32) and horn calls draw us close to nature. At the end of the piece, the calm repose of the prolonged final chord tells us that we're home.
We often hear a full orchestra version of this piece. Otto Klemperer's 1961 recording captures the intimacy of the original scoring, giving us an idea of what Cosima Wagner may have heard on Christmas morning:
Many of Siegfried Idyll's themes originated in an unfinished string quartet. Ultimately, these motives found their way into opera. Listen to the way themes from Siegfried Idyll pop up in the final scene of Siegfried (the opera) and in Siegfried's Rhine Journey from Götterdämmerung. Listen to the horn line at 6:47 and compare it with the line in Siegfried Idyll around 10:32.
More Recordings
[unordered_list style="tick"]
[/unordered_list]