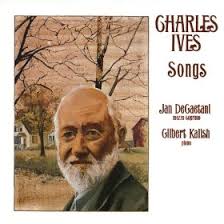 In celebration of Mother's Day, here are two settings of Songs My Mother Taught Me by the Czech poet Adolf Heyduk. You may be familiar with Antonin Dvořák's famous song, written in 1880 as part of the cycle, Gypsy Songs, Op. 55. Fritz Kreisler later transcribed it for violin. Here you can hear it played by Itzhak Perlman and then sung by American tenor Richard Crooks. 
The poem deals with the flow of time, continuity and memory:
Songs my mother taught me, In the days long vanished;
Seldom from her eyelids were the teardrops banished.
Now I teach my children, each melodious measure.
Oft the tears are flowing, oft they flow from my memory's treasure.
About fifteen years after Dvořák, Charles Ives, an ocean away in New England, created his own setting. Here it is sung by mezzo-soprano Jan DeGaetani:
Like so much of Ives' music, this song enters hazy, dreamlike territory. At 1:29 the music drifts off into silence ("from my memory's treasure"). When the A section returns at the end of the song, notice that Ives adds a crucial new chord (2:08) which wasn't there the first time. Also listen for the ghostly echo of the final piano note.
To hear more music by Charles Ives visit my previous posts, A Charles Ives Thanksgiving and The Unanswered Question.