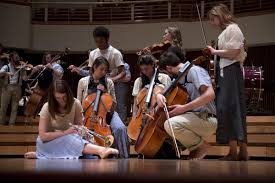 A recent University of Maryland School of Music student performance of Aaron Copland's Appalachian Spring is gaining well deserved attention. The performance was unique because it defied almost all of the conventions of the typical concert experience. There were no chairs or music stands onstage and there was no conductor. Instead, the 25-minute-long work was performed by memory and the musicians not only played, but incorporated elements of dance and motion created by Baltimore choreographer Liz Lerman. The Washington Post critic called it, "one of the standout performances of my many years in Washington."
In 2012 the school offered a similar performance with Debussy's sensuous Prelude to the Afternoon of a Faun. The concept is similar to recent Broadway theater productions of shows such as Stephen Sondheim's Sweeney Todd, in which actors on stage also played instruments.
In this piece, the Washington Post's Anne Midgette suggests that visual elements are an important ingredient to building new audiences:
What part does movement have in musical performance? Musicians seem uncertain — or unaware. On the one hand, it's a new truism that classical music concerts "need" a visual element to captivate new audiences ("Classical music must, in order to survive, introduce visual elements into its presentation," wrote Patricia Handy in her program notes for Augustin Hadelich's ostensibly theatrical "Tango, Song and Dance" program at the Terrace Theater last week).
But how much truth is there in Midgette's "new truism?" Statements such as these, part of a constant and often assumption-based media drumbeat that "classical music is dying", seem dubious. Copland's Appalachian Spring and other great music, when performed well, will always have an audience. The expressive power of music lies in the fact that it's fundamentally about listening, not watching. Audience members who lack the attention span to really listen will miss the true experience. It's the challenge of music education to teach audiences how to listen. Exposure to music at an early age is an important part of this education.
The University of Maryland's exciting and heartfelt performance is interesting for what it is: a creative way to blend dance and music into a new kind of performance art. In this case, it may be especially successful because Appalachian Spring was written as a ballet. For the students, who gained a deeper understanding of the way the piece fits together and experienced it as chamber music, there is also value.
Here is the complete performance:
Ballet for Martha
Premiering in 1944, Aaron Copland's Appalachian Spring was written for choreographer Martha Graham, who danced the leading role. It was originally scored for a chamber orchestra of 13 instruments. Listen to the original version here. Copland gave the piece the simple working title, Ballet for Martha. Later, after the music had been written, Graham suggested Appalachian Spring, a reference to Hart Crane's poem, The Bridge:
O Appalachian Spring! I gained the ledge;
Steep, inaccessible smile that eastward bends
And northward reaches in that violet wedge
Of Adirondacks!
From its opening pandiatonic chords, Appalachian Spring embodies a distinctly "American" sound. Rob Kapilow offers fascinating insights about the way the piece develops out of these chords and why they evoke the wide open spaces of the American frontier. The incorporation of variations on the Shaker melody, Simple Gifts, suggests a nationalism similar to the use of Russian folk songs in Stravinsky's ballet music.
In this rare recording of Copland rehearsing Appalachian Spring with an unknown orchestra, we hear the composer urge musicians to play passages with less sentimentality, finding a more honest, "American" sound. The clip offers valuable insights into what Copland had in mind in terms of tone color, articulation and balance.
If you're looking for a great recording of this piece, I recommend Leonard Bernstein's 1983 recording with the Los Angeles Philharmonic.