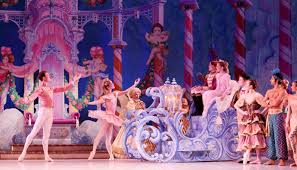 Nutcracker season is in full swing here in Richmond. My orchestra, the Richmond Symphony, will perform Tchaikovsky's Nutcracker thirteen times through December 23. Richmond Ballet's long-term dedication to live music in the orchestra pit is commendable and elevates their already excellent productions. There is no replacement for the power and emotional punch of live music. Canned music has a "deadening" effect, while live music unleashes a creative energy which propels all other aspects of the production.
Challenges arise when you're playing the same piece multiple times in a row. Physical and mental fatigue can set in on days when there are doubles. High decibel levels and close proximity in the orchestra pit can be painful. It's also important to avoid going on "autopilot." Professionalism requires that you deliver an equally exciting product in every performance, even if it's the hundred millionth time.
When you can't see the stage, you become increasingly aware of the drama unfolding in the music. In the moments before the clock strikes midnight, Tchaikovsky's hushed music builds anticipation. A sudden key change and colorful splashes of harp tell us that we've transitioned into a magical new world. Squeaks and chirps suggest the scurrying mice. One characteristic unique to Tchaikovsky is his ability to generate intense excitement by pushing a repeated musical idea to its limit. Just when you think he can't go any further, he takes it that one extra step. In The Nutcracker this is visually as well as musically represented with the growth of the Christmas tree. There are also moments, like the coda of the Waltz of the Flowers, where the feeling of established meter gets disrupted.
At its heart, E.T.A Hoffmann's mythical story is about death (the toy Nutcracker is destroyed) and heroic and eternal rebirth. The hazy line between dream and reality permeates the story. As hard as it is to believe, The Nutcracker, which premiered in 1892, was not originally successful. Now it's a glistening addition to the Christmas season in Richmond and beyond.
https://www.youtube.com/watch?v=clWKDT4TQIk&noredirect=1