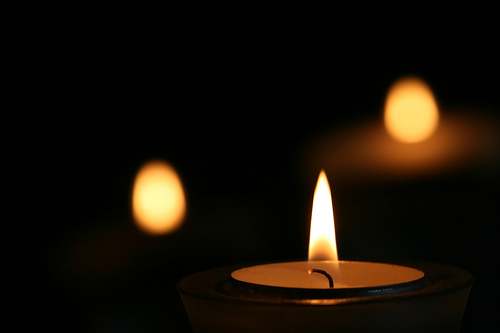 The phrase Dona nobis pacem ("Grant us Peace") comes from the Agnus Dei section of the Roman Catholic mass. It's a simple, yet eternally powerful, invocation which has come to life in countless musical settings, from the serene simplicity of the traditional canon to the melodic perfection of Schubert's Mass No. 6 in E-flat Major. At the end of Franz Joseph Haydn's Lord Nelson Mass, it emerges as a triumphant celebration. In the twentieth century, it becomes a joyfully exuberant dance in Leonard Bernstein's Missa Brevis and a mysterious, meditative prayer in this 1996 setting by Estonian composer Peteris Vasks.
Here are six additional musical invocations of peace:
Bach's Mass in B minor
J.S. Bach's monumental Mass in B minor concludes with this powerful setting of Dona nobis pacem. Bach's music transcends the quiet, meditative prayer we might expect. Instead, it's a soaring, almost defiant musical statement. As it develops, reaching increasingly higher, we hear a single musical subject appear in one voice and then another. This persistent musical line seems to be communicating a message which cannot be put into words and cannot remain silent.
Beethoven's Missa Solemnis
Dona nobis pacem appears in the final movement of Beethoven's Missa Solemnis. In the score Beethoven wrote the words, "Prayer for inner and outer peace." In the spirit of Beethoven's Ninth Symphony (written a year after the completion of Missa Solemnis), this is music which seems to be trying to wrap its arms around the universe. You'll hear sudden, earth-shattering changes of direction and the occasional martial sounds of drums and bugles. This excerpt gives us a sense of Missa Solemnis' vast, cathedral-like musical architecture; but as the work nears an end, it melts into something more intimate and contemplative. (Listen to the joyful, sparkling string and woodwind lines and the quietly contented passages which follow here).
Venus, the Bringer of Peace
Gustav Holst's orchestral suite The Planets begins with Mars, the Bringer of War, a demonic, mechanical march locked into the irregular meter of 5/4 time. But the movement which follows evokes the serene peace of Venus. Opening with a solo horn line, Venus, the Bringer of Peace draws us into its colorful, placid, almost static world. As the movement ends, a momentary hint of something dark and ominous gives way to sparkling bells and innocent woodwind voices.
Vaughan Williams' Dona nobis pacem
Ralph Vaughan Williams' cantata, Dona nobis pacem was written in 1936 as a new World War loomed on the horizon. Its text alternates between the traditional Roman Catholic Mass and other biblical excerpts and poems of Walt Whitman: Beat! Beat! Drums!, Reconciliation (below), and Dirge for Two Veterans. 
Word over all, beautiful as the sky,Beautiful that war and all its deeds of carnage must in time be utterly lost,That the hands of the sisters Death and Night incessantly softly wash again

and ever again, this soiled world;

For my enemy is dead, a man divine as myself is dead,I look where he lies white-faced and still in the coffin – I draw near,Bend down and touch lightly with my lips the white face in the coffin.
At moments, Vaughan Williams' music suggests the trumpet calls and drums of battle. A solemn, numb funeral dirge trudges on. Half way through, the words, "Dona nobis pacem" become an ear-splitting shriek of pain. But throughout the cantata, we also hear exuberant splashes of color and some of the most lushly beautiful music imaginable…the sonic equivalent of England's "green and pleasant" countryside.
(Vaughan Williams' Dona nobis pacem ends at the 33:30 mark, below).
Honegger's Symphonie Liturgique
Written in the aftermath of the Second World War, Swiss composer Arthur Honegger's Symphony No. 3 "Symphonie Liturgique" can be heard as a wordless mass. Here is the final movement, which concludes with a reference to Dona nobis pacem. At moments, the music suggests the roaring steam of Honegger's locomotive-inspired Pacific 231. In its final moments, as earlier conflict fades, the music enters a colorful and mysterious new world, seeming to fade into eternity:
Fauré's Requiem
And what better way to finish than with the sparkling, childlike innocence of In paradisum, the final movement of Gabriel Fauré's Requiem:
[unordered_list style="tick"]
[/unordered_list]