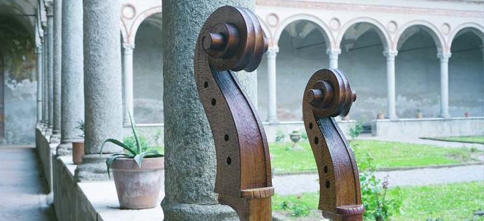 Early last month, CBS News correspondent Bill Whitaker's excellent 60 Minutes piece, The City of Music, profiled the long history of violin making in Cremona. The small Italian city has produced some of the world's finest violins, including instruments by Antonio Stradivari (1644-1737) and luthier families such as Amati (active between 1537 and 1740), Guarneri, and Bergonzi.
Itzhak Perlman talks about the characteristics of his Strad and plays briefly. He describes his mental image of the sound and its sense of "sparkle." Violinists Cho Liang Lin, Salvatore Accardo, and Anastasiya Petryshak also appear.
With one hundred and fifty shops, Cremona is still an epicenter of fine violin making. Whitaker offers an inside look at violin making and restoration, including the selection of wood which is based on resonance.
Watch the 60 Minutes report and then listen to Perlman's Strad in action as he plays Fritz Kreisler's Preludium and Allegro.