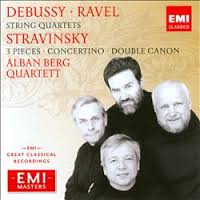 Great composers are never born out of the smug, comfortable bubble of academia. School has its place when it comes to perfecting the essential technical craft of composition (Beethoven studied with Haydn). But in the end, the greatest composers largely have been outcasts. Their bold, exciting and disruptive visions are usually misunderstood and rejected by the ruling establishment of the day. They hear things that others cannot.
The story of Maurice Ravel's String Quartet in F major is a case in point. Written in 1903 when Ravel was 28 years old, the work was rejected by both the Prix de Rome and the Conservatoire de Paris. Ravel dedicated the work to his teacher, Gabriel Fauré, who called the last movement, "stunted, badly balanced, in fact a failure." After being formally expelled, Ravel continued to audit Fauré's class. To be fair, Fauré isn't the only great composer to leave a "foot-in-mouth" statement for the history books. His quote gives us a sense of how shocking and revolutionary Impressionism must have been for older generations. This new music broke established rules of harmony and form, drawing on jazz and Asian Gamelan influences. Single chords evoked magical and surreal new atmospheres. In 1905 Claude Debussy wrote to Ravel saying,  "In the name of the gods of music and in my own, do not touch a single note you have written in your Quartet."
From its opening bars, Ravel's String Quartet unfolds like a dream. It takes sudden turns effortlessly, often ending up where we least expect. As voices are passed around, the two violins, viola and cello seem to be conversing (listen between 0:54 and 1:16 for an example). In the first movement's haunting second theme (1:54), notice the atmospheric sound of the first violin and viola in octaves and listen for the cello pizzicato.
One of my favorite passages occurs between 2:23 and 2:55, where each harmonic door opens into a room which seems more special than the last. Then this moment evaporates as if it had never occurred and we find ourselves in the more uncertain world of the development section, surrounded by splashes of color.
You'll hear echoes of the first movement return throughout the rest of the piece. Listen carefully to the way 3/4 and 6/8 time merge together in the twangy pizzicato opening of the second movement. As the movement progresses, it covers a wide range of musical atmospheres, but the persistent opening motive keeps popping up, as if to say, "I'm still here!" (listen around 9:03 and in the mysterious passage at 11:50 in which the motive hints at a gradual transition back to the "A" section). The third movement enters strange, ethereal territory, while the final movement erupts with a blazing, unstoppable energy.
Here is a recording by the Alban Berg Quartet:
[ordered_list style="decimal"]
Allegro moderato. Très doux
Assez vif. Très rythmé 
Très lent 
Vif et agité 
[/ordered_list]
[unordered_list style="tick"]
[/unordered_list]