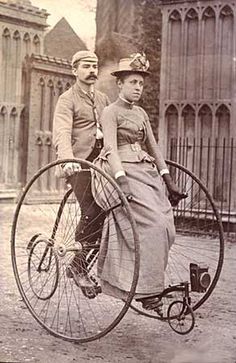 My hometown, Richmond, Virginia, is gearing up to host the UCI (Union Cycliste Internationale) Road World Championships bike race. The event begins this Saturday, September 19 and concludes on the 27th. On Friday at 6:30, the Richmond Symphony will be playing for a crowd of 10,000-plus spectators at the opening ceremonies on Brown's Island, near the James River in downtown Richmond.
In celebration of the UCI World Championships, here is a historical curiosity: Daisy Bell (Bicycle Built for Two), the 1892 popular song, performed by Max Mathews, one of the pioneers of computer music. This 1962 recording, produced in the Bell Laboratories in Murray Hill, New Jersey, was one of the earliest experiments in speech synthesis and digitally reproduced sound. The science fiction writer Arthur C. Clarke visited the lab around the time this music was produced and incorporated it into the movie 2001: A Space Odyssey. The HAL 9000 computer sings it as it is being shut down.
This work, revolutionary when it was first developed and now taken for granted, opened the door for everything from John Adams' Hoodoo Zephyr  to the "expressive" auto-tuning of Cher's 1998 song, Believe. 
…and here is the soaring "flying bicycle" music from John Williams' film score to E.T (1982). Notice the way the theme reaches increasingly higher, giving us a visceral sense of upward lift:
If you can think of more examples of bicycle-inspired music, share them in the thread below.