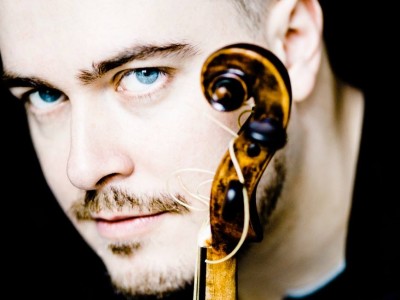 There's an old joke that Antonio Vivaldi didn't write 500 concertos, he wrote the same concerto 500 times. Vivaldi's own performances were undoubtedly infused with a virtuosic freedom and sense of spontaneity that grew out of improvisation and ornamentation. Robbed of these elements, modern performances of Vivaldi can sometimes sound formulaic, like bland elevator music.
But if you want to hear just how exciting and adventurous Vivaldi's music can be, listen to the edge-of-your-seat period playing of Russian violinist Dmitry Sinkovsky. A few weeks ago, Sinkovsky appeared with Belgian baroque ensemble B'Rock (Baroque Orchestra Ghent) at the BBC Proms (Listen to that concert here). Notice the stunning virtuosity in the cadenza of the Violin Concerto in D major, RV 208 'Grosso Mogul,' towards the end of the concert. In moments like this, Sinkovsky perfectly captures the fun-loving abandon of this music.
Below is Dmitry Sinkovsky's 2012 recording, Concerti per Violino "Per Pisendel" with Il Pomo d'Oro. He talks about the recording here. Johann Georg Pisendel (1687-1755) was a German violinist and composer who led the Court Orchestra of Dresden. Pisendel studied with Vivaldi around 1716 and received the dedication of several of Vivaldi's scores.
Concerto for Violin, Strings and B.C. in C major RV 177, which opens the recording, explodes with an almost Stravinsky-like punch and some jarring dissonances (0:40). At moments, Sinkovsky's tone takes on a strikingly vocal quality, interspersed with percussive effects (3:50). The D major concerto which follows (RV 212a) features an extended cadenza, which daringly cycles through a series of keys (beginning at 17:22).
https://www.youtube.com/watch?v=JR0xIv6ECiI
[unordered_list style="tick"]
[/unordered_list]